Rashida Jones Reportedly Welcomed Her First Child With Vampire Weekend's Ezra Koenig
The actress and the Vampire Weekend frontman reportedly welcomed a child together months ago, but have kept details under wraps.
---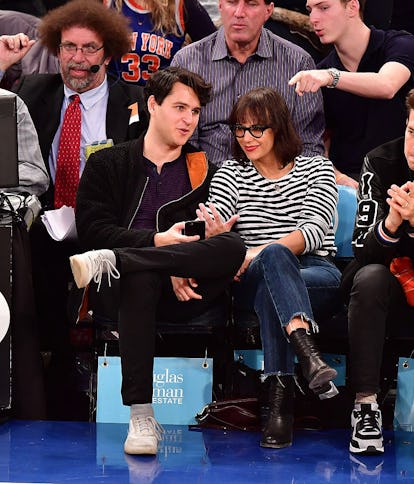 James Devaney/Getty Images
Few may have realized that Rashida Jones and Ezra Koenig were a couple, let alone parents of their first child together, but according to an exclusive report from Us Weekly, Jones gave birth to her first child months ago. Jones was previously linked to the music producer Mark Ronson (to whom she was also once engaged), and the Saturday Night Live performer Colin Jost, but has reportedly been dating the Vampire Weekend frontman Ezra Koenig since 2016, when they were spotted together at a Knicks game in New York.
If you're a Vampire Weekend fan looking for clues to the highly anticipated upcoming album or official confirmation that Koenig and Jones did indeed welcome their first child together months ago, don't hold your breath, because neither half of the couple has shared any updates on their relationship status on social media. However, while the two never gave a public confirmation of their relationship, Koenig recently shared a screenshot of the poster for Quincy, the Netflix documentary that Jones directed about her father, Quincy Jones, in his Instagram Stories, if that's enough of a breadcrumb on the road to confirmation.
Rumors that Jones was pregnant began to circulate earlier this year, but they remain unaddressed by both Jones and Koenig. However, the actress has gone on record multiple times to open up about her thoughts on marriage and motherhood. In 2011 she told E! News, "Marriage doesn't really buy you anything…It just buys you a really big s–tty pageant of a wedding to make other people happy," but said she does believe in monogamy for "some people." A few years later, in 2014, she told The Guardian, "I'm happy, but the fact that I'm not married and don't have kids—it's taken me a long time to get to a place where I actually am OK with that, where I actually don't feel like I'm some sort of loser."
Though Jones and Koenig remain private about their relationship and parenthood status, they are not the first famous couple to privately welcome a child into the world, only for it to be revealed months later—they are potentially joining a club that includes Zoe Kazan and Paul Dano, as well as Nicholas Hoult and his girlfriend. Still, while Jones and Koenig have yet to publicly affirm the birth of a baby together, at this rate, we might get confirmation on the new baby's name faster than an update on Vampire Weekend's new album.
Related: Paul Dano and Zoe Kazan Reportedly Welcomed Their First Daughter Last Month