Three Heads are Better Than One
Legendary hair stylists Howard McLaren, Garren, and Thom Priano join forces.
---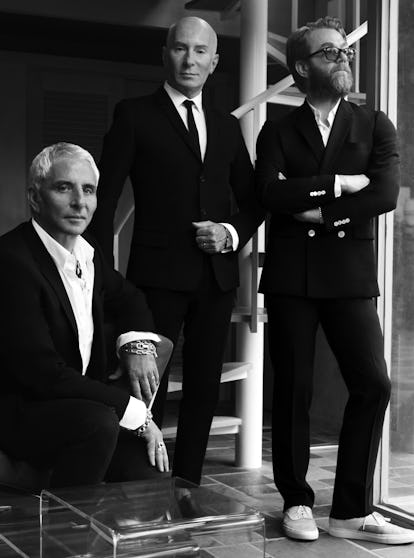 "When you're at the level I am, you very rarely get to mingle and work and schmooze with other hair people unless they work for you," says Garren, the legendary New York stylist and owner of the eponymous salon. "I mean, we don't go have a cup of coffee and talk about hair." But recently, Garren was given the opportunity to join heads with Howard McLaren, who built Bumble and bumble before opening Whitehouse, a Los Angeles pop-up salon, in 2012; and Thom Priano, a men's grooming expert (and a partner in the Garren New York salon) known for his editorial work with photographers Bruce Weber and Herb Ritts. The result: a hair care line called R+Co. (The "R" stands, aptly, for "rogue.")
The collaboration didn't, in fact, happen over cappuccinos-—the three men were brought together by Luxury Brand Partners, which develops and owns high-end beauty -companies—but the project has been very much a convivial meeting of like minds. The line, which hits select stores and salons in May, features five shampoos and conditioners geared toward different hair types, as well as 13 styling products with clever names like Tinsel (a smoothing oil) and Dallas (a thickening spray). Everything is paraben-, sulfate-, petroleum-, gluten-, and cruelty-free—not to mention vegan. And the trio's ethical credo extends to selling customers only what they really need. "We feel clean hair is a style and should be a style," McLaren explains. "You shouldn't have to put products in your hair if you don't want to, and if you've got a spray for one thing, you don't need two or three others." Fragrance is also minimal, per Garren's directive. "If you get caught in the rain, you're not going to smell like a citrus tree," he assures.
Civilians can learn how to achieve their ideal looks via online tutorials and a hairdo/product-pairing app. But R+Co. is also targeting fellow stylists: Garren, Priano, and McLaren hope to expand their collaboration to include other industry talents, bringing in guest stylists and colorists to create new products. "It's not like, 'Let's just do a line and put it on the market'—it's continual," Priano says. "The more feedback you get from other hairdressers, the better it's going to be."