Read and Resist: W's Daily Briefing for June 11
From an already disbanded police force in New Jersey to what the future of this movement looks like, here's what to read to stay informed today.
---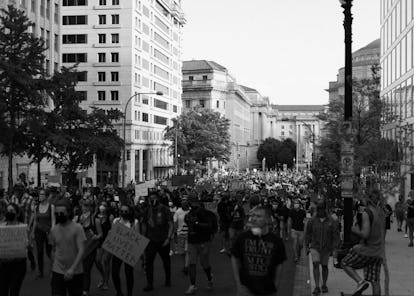 Back in the day, W started off the morning with a quick round-up of links to that day's fashion- and culture-related news. Times have changed; in the week since a white police officer named Derek Chauvin killed an unarmed black man named George Floyd, protests have erupted across the country. Now, more than ever, it's important to stay up to date, which is why we're reviving "Chic in Review" as the slightly more radical "Read & Resist." Here are the stories, videos, and tweets we're hoping you don't miss this Thursday:
If you have time for just one article today, read this one. It examines the decades (let's be honest, centuries)-long tradition of law enforcement's brutal treatment and, at times, fatal actions toward Black people in America. George Floyd was far from the first Black man to be killed at the hands of a police officer. Why, then, did his death spark such a widespread outcry for change? And a couple weeks after his passing, will real, legislative reform actually come about? Lowery looks at the history and the future of this movement, writing, "Public discussion about fixing the criminal-justice system often accepts as a premise that the path forward involves 'reforming' thousands of individual state and local law-enforcement agencies and prison systems. But what if it doesn't? What if the activists are right, and the solution is to dismantle American criminal justice and build something better? What might that look like?"
Here's another look at the future of this movement, told through the lens of one Seattle-based activist named Andrè Taylor. His goal is to not let the sensationalized media coverage of the protests overshadow the ultimate goal: police reform through peaceful demonstration. "'I want you to look constantly around you,'" Gardner writes Taylor as saying to a crowd of protesters. "There will be people, he cautioned, who will no doubt cause trouble, a reference to past Seattle protests. Anarchists and right-wing groups and even well-intentioned but misguided allies who were sure to derail the message of justice and police reform with smashed glass, fire, violence."
Much has been written this week about the city of Camden, New Jersey, which disbanded its police department in 2013. It's being held up as a model for the future of law enforcement in other states—either that, or a cautionary tale against dismantling our nation's police force. This article takes a smart, middle-of-the-road approach, with colorful on-the-ground reporting. "Camden offers lessons for Minneapolis, where a majority of city council members vowed to disband its police force to pursue 'community-based public safety,' and other cities rethinking what policing should look like," Megerian writes.
Another round of CEOs—including Man Repeller's Leandra Medine and Audrey Gelman of the Wing, who stepped down earlier today after present and former Wing staffers of color urged the company to practice the social equity it preaches—has befallen the media and media-adjacent industries. The smoke is still clearing, but here is an in-depth and compos mentis essay on the whole reckoning—whether you're just getting up to speed, or if you're hitting that well-worn reload button on Twitter right now to see who's next to be called out. This piece demonstrates the direct line between the protests and the resignations—and how both issues must be dealt with firsthand, at the very top.
Newsreel
Food for Thought
Related: 'Eve's Bayou,' 'Drylongso,' and Other Black Films to Watch Right Now