Novitiate Actress Rebecca Dayan Loves David Bowie And Velvet Slippers, But Is Not Here for Pre-Ripped Jeans
The French actress, who plays a nun in her latest film, offers her style and beauty tips.
---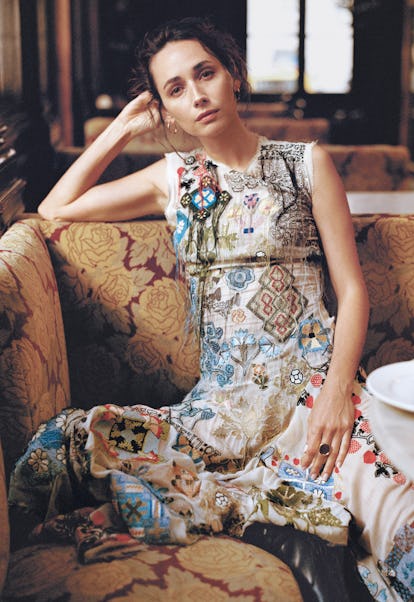 Photograph by Dominick Sheldon, Styled by Nora Milch; Makeup by Georgi Sandev for MAC at Streeters; Hair by Bok-Hee for Oribe at Streeters; Photography assistants: Tadakki Shibuya, Zane Shaffer, Jason Acton; fashion assistant: Jillian Farina; special thanks to Cafe Sabarsky at Neue Galerie.
There is little about Rebecca Dayan that suggests she would make a great nun. Effortlessly chic, she exudes the knowing worldliness that comes from a life spent following her artistic passions. And yet, in Margaret Betts's debut feature film, Novitiate, opening this fall, Dayan is incredibly convincing as Sister Emanuel, one of a group of young female novices in the 1960s, who is confined both physically and emotionally. "I linked it to a craving of belonging and feeling worthy," she explains of her character's quest for divine acceptance. "I think anyone can relate to that need to feel love." Dayan developed a devotion to acting and art as a child growing up first in the hotel her parents owned in Saint-Paul de Vence, a tiny town in the South of France, and then in Nice and Paris. (Eventually, she supplemented her painting and drama-school classes with modeling.) These days she toggles between New York and Los Angeles—and also between her chosen forms of expression, which sometimes overlap. Her 2015 exhibition "Assumption," at Catherine Ahnell Gallery, in New York, featured watercolor portraits of friends like Tali Lennox and Lola Kirke garbed in nunlike veils. "I need the interaction of multiple disciplines to feel whole," Dayan says. Here, the actress and artist shares her style and beauty tips.
Describe your style in three words: Eclectic and easy.
Favorite places to shop: In Paris, Pretty Box; in New York, Ritual Clothing and Doyle and Doyle; and in Los Angeles, Scout and Dream Collective.
Piece of clothing you've owned forever: My leather jacket; I've actually had it since I was 6-years-old.
Favorite pieces in your wardrobe: Vintage Levi's 501 and a little diamond on a thin chain—my sister and I have the same [one], they came from my grandmother's engagement ring and my mother had them mounted as a pendant for our birthdays.
Style icons: Patti Smith, David Bowie, and Françoise Hardy.
Best recent discovery: Filmstruck [a TCM streaming service].
Style pet peeve: When it feels forced and too styled.
Beauty pet peeve: Contouring.
Most recent purchase: My first home in New York City.
Currently lusting after: Furniture and plants for my apartment.
Go-to evening look: Same as day for the most part. I do like to dress up sometimes—make up stays the same, but I can go for a red lip or black eye liner or a sparkly eyeshadow.
Preferred footwear: Boots! And all kinds: low, high-heeled, flats.
Something you would never wear: Factory torn or ripped jeans.
Morning beauty routine: I wash my face with Ren face wash; spray rose water or orange blossom water; and put on La Mer gel cream and SuperGoop SPF 50—when I remember to, Glossier Perfecting Skin Tint and Dior Fix-It 2-in-1 Prime & Conceal, a bit of RMS Living Luminizer on my cheekbones, brush my eyebrows, and go.
What's always in your bag: Phone, wallet, Dior Addict Lip Sugar Scrub, keys, and a set of dice.
Most underrated fashion and beauty items: Venetian velvet slippers and sweet almond oil.
Most overrated fashion and beauty items: Logos and sheet masks.
Best advice you've ever received: Less is more.
Related: At 28, Lucy Hale Already Has an Anti-Aging Regimen—and Thinks You Should, Too
David Bowie Homage: Willow Smith, Zendaya, and Kiernan Shipka's Heartfelt Rendition of "Changes"
The Most Iconic French Girls of All Time, From Brigitte Bardot to Jeanne Damas
French actress Catherine Deneuve at the Cannes Film Festival in May 1966. Photo courtesy of Getty Images.

Getty Images
Françoise Hardy has been cited as an inspiration for many fashion figures such as André Courrèges, Paco Rabanne, and Nicolas Ghesquière. Photo courtesy of Getty Images.

Getty Images
Brigitte Bardot, here in 1960, was a French actress, singer, dancer and fashion model, who later became an animal rights activist. Photo courtesy of Getty Images.

Getty Images
Carla Bruni-Sarkozy exits the The Metropolitan Museum of Art following the The White House Symposium on Advancing Global Literacy Meeting on September 22, 2008 in New York City. Photo courtesy of Getty Images.

Getty Images
Charlotte Gainsbourg attends the Cesar Film Awards 2013 at Theatre du Chatelet on February 22, 2013 in Paris, France. Photo courtesy of Getty Images.

Getty Images
Eva Green started her career as a model in France, eventually becoming Tim Burton's newest muse. Photo courtesy of Getty Images.

Getty Images
Since breaking out at age 14, Vanessa Paradis has been the face of Chanel since 1991. Photo courtesy of Getty Images.

Getty Images
Melanie Laurent attends 'L'Attrape-Reves' Paris Premiere at UGC Cine Cite des Halles on October 20, 2016 in Paris, France. Photo courtesy of Getty Images.

Getty Images
Ines de la Fressange attends the Schiaparelli show as part of Paris Fashion Week Haute Couture Fall/Winter 2015/2016 on July 6, 2015 in Paris, France. Photo courtesy of Getty Images.

Getty Images
Soko attends the Gucci Cruise 2019 show at Alyscamps on May 30, 2018 in Arles, France. Photo courtesy of Getty Images.

Getty Images
Audrey Tautou arrives at the H&M fashion show during Paris Fashion Week Fall Winter 2015/2016 on March 4, 2015 in Paris, France. Photo courtesy of Getty Images.

Getty Images
Lou Doillon attends the Saint Laurent show as part of the Paris Fashion Week Womenswear Fall/Winter 2017/2018 on February 28, 2017 in Paris, France. Photo courtesy of Getty Images.

Getty Images
Lea Seydoux attends the 'Louis Vuitton Masters: a collaboration with Jeff Koons' dinner at Musee du Louvre on April 11, 2017 in Paris, France. Photo courtesy of Getty Images.

Getty Images
Constance Jablonski attends Harper's Bazaar: 150th Anniversary Party at The Rainbow Room on April 19, 2017 in New York City. Photo courtesy of Getty Images.

Getty Images
Marion Cotillard attends the Chopard and Annabel's Gentleman's Evening at the Hotel Martinez during the 70th Annual Cannes Film Festival on May 24, 2017 in Cannes, France. Photo courtesy of Getty Images.

Getty Images
Jeanne Damas attends the Tory Burch Regent Street opening on May 22, 2017 in London, England. Photo courtesy of Getty Images.

Getty Images
Caroline de Maigret attends the CHANEL Metiers D'art Collection Paris Cosmopolite show at the Tsunamachi Mitsui Club on May 31, 2017 in Tokyo, Japan. Photo courtesy of Getty Images.

Getty Images
Clemence Poesy attends Vogue Foundation Dinner during Paris Fashion Week as part of Haute Couture Fall/Winter 2017-2018 at Musee Galliera on July 4, 2017 in Paris, France. Photo courtesy of Getty Images.

Getty Images
Gabrielle Chanel, known as Coco, the French couturier. Photo courtesy of Getty Images.

Getty Images
Carlyne Cerf de Dudzeele attends the Glamour dinner for Patrick Demarchelier as part of the Paris Fashion Week Womenswear Spring/Summer 2014 at Monsieur Bleu restaurant on September 29, 2013 in Paris, France. Photo courtesy of Getty Images.

Getty Images
Laetitia Casta attends the Nina Ricci show as part of the Paris Fashion Week Womenswear Fall/Winter 2016/2017 on March 5, 2016 in Paris, France. Photo courtesy of Getty Images.

Getty Images
Astrid Berges-Frisbey attends the Chanel show as part of the Paris Fashion Week Womenswear Spring/Summer 2019 on October 2, 2018 in Paris, France. Photo courtesy of Getty Images.

Getty Images
Isabelle Hupert attends the 16th Sidaction as part of Paris Fashion Week on January 25, 2018 in Paris, France. Photo courtesy of Getty Images.

Getty Images
Portrait of actress Juliette Binoche. Photo courtesy of Getty Images.

Getty Images