Reese Witherspoon Doesn't Regret Marrying Ex-Husband Ryan Phillippe at Age 23
"I would never change anything."
---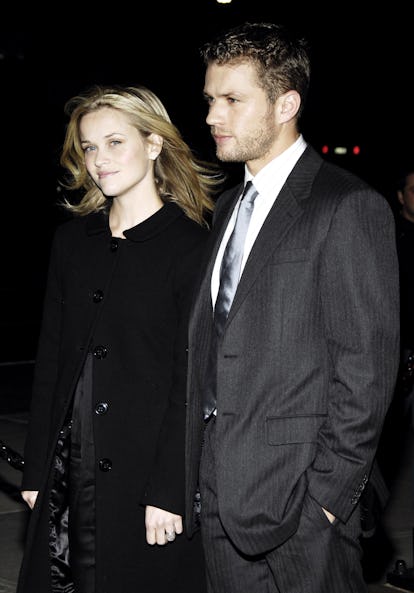 Ryan Born/Getty Images
Reese Witherspoon and Ryan Phillippe were one of the most quintessentially '90s celebrity couples, ranking just below Kate Moss and Johnny Depp, and Brad Pitt and Jennifer Aniston. The pair met, per '90s magazine JANE, on Witherspoon's 21st birthday, during which she slurred at him, "I think you're my birthday present!" A year later, they were engaged and happily playing sexy proto-Gossip Girl versions of decadent French aristocracy in Cruel Intentions. Witherspoon and Phililippe later endured a highly publicized divorce in 2007.
In a new interview on British talkshow Lorraine, Witherspoon made it clear that she regrets nothing about their relationship with Phillippe, with whom she still remains good friends and shares two children. The topic came up while the actress was promoting her new film, Home Again, which is about a mother who has an affair with a younger man. "It's about that next chapter in your life," said Witherspoon. "What do you do when you get to 40 and you made a decision when you were 25 to get married and have kids? I got married when I was 23 and I had two kids by the time I was 27. So I don't know, you know, sometimes it's good to know yourself."
She went on to say, "I would never change anything," although she followed that up immediately by saying she wouldn't necessarily give the same advice to her daughter and noted doppelgänger, Ava Phillippe. "I've said to my daughter, I think, you know, [at] 25, you start to know yourself a little bit better."
Over the years, both Witherspoon and her ex-husband have been candid about getting married in their early-to-mid 20s. Phillippe himself has identified their respective ages as one reason for their split. "I think more of the problem was age," he told Us Weekly in 2015. "When we got together we were so young. I think it can create issues with two people in this industry because there's so much noise that goes along with it." Four years before that, Witherspoon had said to Elle UK, "I was so, so young. I was, like, ridiculously young."
"I learned a lot, though," the actress added in that interview. "It was an excellent opportunity for me to really find out what it means to be a partner and to be in a marriage and it's not anything that I thought it was."
In 2011, Witherspoon remarried to talent agent Jim Toth. The two share a son.
Related: Reese Witherspoon and Jennifer Aniston Are Co-Starring in a New Show, and You're Definitely Going to Watch It
Reese Witherspoon Loves Miles Teller Back:
11 Mother-Daughter Duos That Look Nearly Identical
Vanessa Paradis and her look-alike 16-year-old daughter, Lily-Rose Depp, appeared in the fall 2015 Chanel haute couture show. Courtesy of Chanel.
Kaia Gerber and Cindy Crawford attend the The Daily Front Row's 4th Annual Fashion Media Awards in New York City.

Nicholas Hunt
Madonna and Lourdes Leon attend the Alexander Wang fashion show in 2016.

Billy Farrell/BFA.com
Zoe Kravitz and Lisa Bonet attend the Saint Laurent fashion show at the Hollywood Palladium in 2016.

Allen Berezovsky
Liv Freundlich and Julianne Moore attend the Ralph Lauren fashion show during New York Fashion Week in September 2016.

Getty Images
Reese Witherspoon and Ava Phillippe at the premiere of HBO's 'Big Little Lies' in California.

Getty Images
Courtney Love and Frances Bean Cobain attend the Hilarity for Charity's 5th annual Variety show at the Palladium in Hollywood in 2016.

Getty Images
Anna Cleveland and Pat Cleveland attend the launch of model Pat Cleveland's book "Walking With The Muses" in 2016 in London.

David M. Benett
Jerry Hall and Georgia May Jagger attend the press night performance of "Snow White And The Seven Dwarfs" at the Richmond Theatre in 2014.

David M. Benett
Uma Thurman's 17-year-old, Maya Thurman-Hawke, is as statuesque as her mother.

BFA
Actress Rene Russo and Rose Gilroy attend the 87th Annual Academy Awards in 2015.

Jason Merritt