Reese Witherspoon Really Wants You To Be Her Librarian
Reese Witherspoon is in search of a resident librarian for her Hello Sunshine Book Club.
---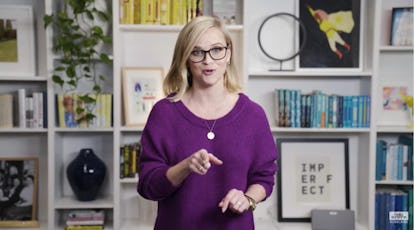 The library is open. Reese Witherspoon's book club library, that is.
The actor and producer has been running her successful Hello Sunshine book club for a couple of years, but there was always one thing missing—a resident librarian.
Witherspoon announced via YouTube that she's "on the hunt for someone special," to fill that role. In the video she mentions that this means someone who is "passionate about sharing women's stories" as well as reading books.
The paid job position entails chatting with Witherspoon herself to "spark entertaining conversation with our book club community across Instagram and YouTube," of course, but you also have to be someone who makes your boss laugh.
She's looking for anyone who can send a 90 second video explaining why they meet the criteria for the role. Somehow, there is no requirement for being a Pinterest obsessive or a "wine mom," but something tells us you'd have a leg up with Witherspoon if you happen to fit both of those descriptions.
Hiring a librarian to manage what the members of Hello Sunshine plan to read each month might seem a little unnecessary on the surface. "Why not just do it yourself?" you might wonder, but actually it makes perfect sense. Witherspoon is already busy starring in and executive producing the film and TV adaptations of books she's selected for her book club (like Celeste Ng's Little Fires Everywhere, for example), so you can't expect her to be the only one checking out and chatting about the books.
The move could also help avoid any potential controversies with future book club picks. Just think of the drama Oprah Winfrey could have avoided if she had a resident librarian to tell her why choosing Jeanine Cummins's controversial novel American Dirt—which many readers see as culturally and racially appropriative —would be a bad move for Oprah's Book Club.
Now, if only Witherspoon would bring this same energy to finding someone to manage her presence on social media.
Related: Little Fires Everywhere Has Found Its Young Reese Witherspoon and Kerry Washington