The Postal Service Sabotage Is the Great Equalizer
Celebrities voicing their support for USPS is peak dystopian 2020.
---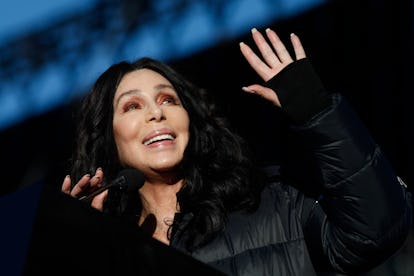 Photo by Sam Morris/Getty Images.
Since President Trump initiated a smear campaign against the United States Postal Service by expressing concerns that mail-in ballots could somehow cause voter fraud, renewed support for the service has swiftly spread—calls for people to purchase books of stamps, start pen pal programs, and generally lend monetary reinforcement to the USPS are currently saturating the Internet. (Funnily enough, while mailboxes are being locked and removed all over the country, Donald and Melania Trump have requested their own mail-in ballots.) In a stunning turn of events, former Trump advisor Steve Bannon was arrested today for fraud by none other than the United States Postal Inspection service—the criminal investigating arm of the Postal Service.
If this dramatic storyline wasn't on your 2020 Bingo card forecasting how this year would go—which was most likely already wrong due to the fact that you hadn't predicted a global pandemic—you aren't alone. Celebrities like Taylor Swift posted messages of their outrage (and incredulity) at Trump's moves to suppress the postal service.
Now, other notable figures are stepping forward to help where they can—including Cher, who tweeted a string of questions regarding her ability to volunteer at her local post office.
Cher's offers for help are very characteristically Cher-on-social-media, but her heart is in the right place all the same. And apparently, she eventually got through to the Postal Service. But imagine being the woman on the receiving end of this call…
For the past few weeks, other celebrities including Reese Witherspoon and Sia have posted calls to action on their social media. Even Mark Hamill, who famously played Luke Skywalker in Star Wars, put up a Princess Leia-themed meme.
Allow Kathy Griffin, who is regularly vocal on political issues, to elucidate Cher's position:
Here's John Legend, taking things just one step further.
And finally, Ben Gibbard, lead singer of Seattle musical group The Postal Service, acknowledged weeks of Twitter jokes comparing the USPS and the early Aughts band. He gave an at-home performance of "Such Great Heights" for the Democratic National Convention's #TeamJoeSings concert series, which might be the ultimate full-circle dystopian moment in all of this (although Bannon's arrest is a strong contender).
Related: Michelle Obama and Her Vote Necklace Were a DNC Highlight