How Cult-Favorite Brand Reformation Became the Go-To for Effortlessly Chic, Untraditional Brides
Reformation designer Yael Aflalo wants to make dresses that girls can actually wear again.
---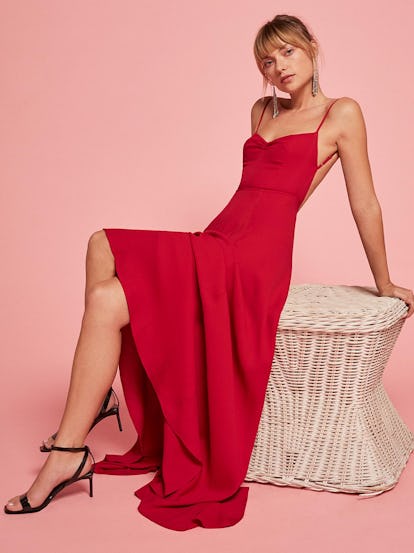 Los Angeles-based fashion label Reformation has earned a cult following amongst It girls thanks to the brand's modern silhouettes and eco-conscious sustainability. Designer Yael Aflalo kept both ideals in mind when developing Reformation's new bridal collection, which debuts on April 27th. Here, she opens up about her inspiration and more.
How did Reformation get started? I had a more traditional fashion brand, Yaya, for about 10 years before I started Reformation. On a trip to China for work, I saw firsthand the overwhelming amount of pollution created by the industry and knew that I had to make a change and help break the cycle. At the time, there weren't many other brands who were making sustainable clothes that I actually wanted to wear, so I created Reformation to fill this void at the intersection of design and sustainability. First and foremost we're trying to make beautiful clothes, that also happen to be sustainable.
You've been doing bridal for a few years now, what made you take the brand in that direction? Since the beginning, our girls have been asking for wedding and bridesmaid dresses. So we tweaked some of our best styles and combined them with the best fabrics to create our bridal collection. From a design standpoint, the dresses very much stay true to Ref – effortless but still sexy and super flattering. We wanted to steer away from traditional gowns and give women something they'll actually want to wear, and something they'll actually wear again. Also because of the way we produce and the sustainable fabrics we use, our dresses are all limited edition, so they feel a little more special. Was the choice personal or did you see a gap in the bridal market? When we launched our first bridal line in March of 2014, people were shocked with how affordable the dresses were. For so long people have overcharged with bridal and they get away with it. But we weren't going to do that. We were going to make cost-effective dresses that girls actually want to wear over and over again. The fact that they're also sustainable is not only an added bonus but also a big differentiator in the market. Is your customer also eco-conscious? Our mission at Reformation is to lead a movement where sustainability and fashion are synonymous. We want to change the way that people think about fashion by showing that it can be eco-friendly without sacrificing style. Whether or not our customers (brides and non-brides) are initially eco-conscious, we hope that we can inspire our girls to be a little more aware of their purchasing habits and want to find ways to reduce the impact that fashion has on the environment.
It seems everyone who works for Reformation truly embodies the brand. Do you find the inspiration for the brand comes from within or do you have outside influences that inspire you? We are always gathering ideas – from girls on the street and in our office to vintage editorials to women and customers' style that inspires us. We always start with what we want to wear, and what girls are asking us for, and go from there. So it's really a combination of both. Is there anyone in particular who you've seen wear Reformation that stands out to you? We're so lucky to have amazing women who support Ref and our mission for sustainability. Some of our more well-known fans are Emily Ratajkowski, Taylor Swift, Rosie Huntington-Whiteley, Sienna Miller and Karlie Kloss. You've recently become a mother. Do you have plans to design for children one day? It may or may not be happening very soon 🙂 Okay, let's get personal. What are three words to describe your own style? Easy, feminine, minimal. Favorite vintage stores? In Los Angeles: Painted Bird, Squaresville, Rose Bowl flea market. In New York: Edith Machinist and Ritual Vintage. Style icons: Giovanna Battaglia, Bianca Jagger Style pet peeve: Trying too hard
Best recent discovery: I just found a DJ school for my 10-month-old daughter
Last purchase: A pool fence and a Celine tote bag Something you would never wear: Baby doll dresses – I'm too tall to dress like a little cutie. Most prized possession in your closet: I actually don't care too much about anything in my closet, which is good since I tend to spill a lot. Music you're listening to right now: Sade and Radiohead Favorite spots in NY: Bowery Hotel, Lucien, Alchemist's Kitchen, The Smile. What makes you feel most confident? A fresh blow dry and talking sustainability at Harvard Business School Biggest turn-off: Close mindedness Something you're reading right now: About 600,000 emails/day