Reformation's Yael Aflalo is Very Tall and Don't You Forget It
That's why you'll never find her in really, really girlie dresses. Not that there's anything wrong with that!
---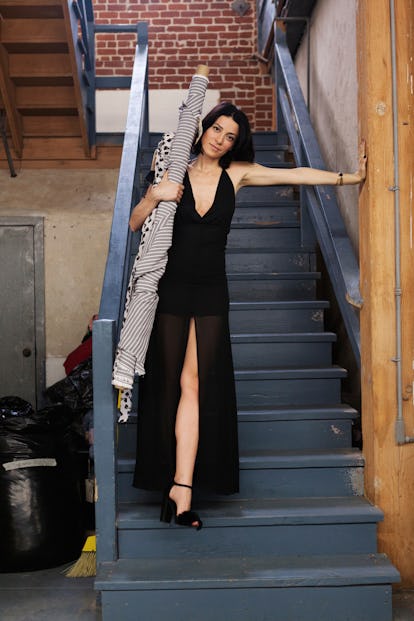 Yael Aflalo, eminently cool founder of the of cult-favorite fashion label Reformation, has managed to build an eco-friedly, affordable essentials empire in just a short six years. Rihanna and Karlie Kloss are fans. The secret to her success? Aflalo has taken her personal Los Angeles cool-girl style, which revolves around vintage Levi's, vegan leather jackets, and body-hugging basics, and translated it for the masses. Today, you won't find yourself at a New York holiday party without a gaggle of girls dressed in plunging velvet necklines or a gingham romper and that's all thanks to her and the hold her store has on young women's imagination.
Occupation: Founder and chief executive of Reformation
Three words that describe your style: Effortless. Feminine. Short.
Daily uniform: A Reformation dress and a great pair of shoes or vintage jeans, a Reformation tee, and a leather jacket.
Preferred footwear: Flats, because I'm already so tall.
Finishing touches: A men's vintage watch.
Nighttime look: Low and loose.
Style icons/inspirations: Bianca Jagger
Best recent discovery: Kari Gran Lip Whip
Favorite stores: Whole Foods and Net-a-Porter
Style pet peeve: Not dressing for your body type
Last purchase: I always spend my money on shoes. I most recently purchased the Chanel Two-Tone Slingbacks.
Lusting after: I'm on the hunt for a chunky pinky ring.
What's always in your bag: Bose noise cancelling headphones, my laptop, and Clarins Beauty Flash Balm.
Something you would never wear: Really girlie dresses. I look ridiculous in them because I'm so tall.
Most prized possession(s) in your closet: A vintage black Dolce & Gabbana cocktail dress that I've been wearing for a million years and I still feel like a sexy '80's lady in it.
Winter wardrobe must-have(s): I'm layering our Reformation tees with everything – sweaters, floor length coats, leather jackets. They're perfect for L.A., where the weather can change in an instant.
Photos: Reformation's Yael Aflalo is Very Tall and Don't You Forget It