Regina Hall On Her "Jarring" New Film The Hate U Give
The actress spoke to W about playing a mother who must guide her children through navigating their first direct experience with police brutality.
---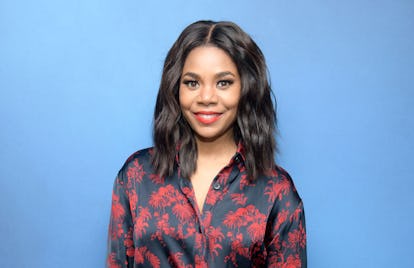 Noam Galai/Getty Images
Regina Hall may be best known for her comedic turns as the fast-talking Brenda Meeks in the Scary Movie franchise, or the hardworking Ryan Pierce in the 2017 critically and commercially successful Girls Trip, but this year, the actress has taken on a heavy dramatic role in The Hate U Give, a realistic portrayal of American racism and police brutality.
George Tillman Jr.'s filmic adaptation of the young adult novel by Angie Thomas places Amandla Stenberg in the lead role of Starr. The film opens with a candid conversation between a young Starr, her two brothers, and her parents (played by Russell Hornsby and Regina Hall), as Starr's parents teach their children that when they, unfortunately inevitably, are riding in a vehicle that is pulled over by the police, they should put their hands on the dashboard and remain silent, or they risk being shot and possibly killed. It is a striking dialog that may resonate with many black parents and children all over the country, who are likely planning when and how they will have "the talk," if they have not already.
Fast forward a few years, and a teenage Starr is riding in the passenger seat with her best friend Khalil (played by Algee Smith), when the car is pulled over and he is murdered by the officer. Starr, who already must deal with her constant code-switching as she travels from her neighborhood to her all-white private school in the suburbs on a daily basis, grapples with the decision to testify as a witness in court. The film, which co-stars Common, Riverdale's KJ Apa, Insecure's Issa Rae, and The Deuce's Dominique Fishback, is a timely portrait of police brutality in the United States, and the disproportionate targeting of young black men by the police, when cameras and cell phones document the slayings of innocent people for all to see. Hall spoke to W about playing a mother who must guide her children through navigating their first direct experience with police brutality, working through the emotionally intense scenes from the film, and watching Stenberg grow as an artist on set.
Had you read book before filming The Hate U Give? What was your first reaction to this story?
George Tillman Jr. had told me about the book about a year before filming, and said he thought I'd be great for it, so they sent it to me as soon as they had it, and I read it, and then read the script. I remember thinking it was really honest. I had so many feelings, it was thought provoking. It was jarring, and the book has so many details. They adapted the screenplay so well from the book and I thought it was incredible that they could tell that story on film and stay committed to the authenticity of the original work. Living in a time where we—well, certainly the black community has known this is true, and talked, and complained—we live in a time where people have phones and cameras, and can see everything. It's not just one group claiming some type of bias. We actually see it, and the script really touched upon that without vilifying anyone, but making it everyone's responsibility. It's not about, this group is a bad group and this group is a good group. We all play a part in making and writing the situation. There were a million feelings.
The film opens on such a heartbreakingly real scene of the kids being given "the talk" about police brutality by their father.
Honestly, when I read the script, I remembered being like, "Shit, if this is how it opens…" You know what I mean? I remember being really, I hate to say surprised, but they were opening with that and talking about the Black Panthers' Ten-Point Program. I remember being like, "Whoa. This is going to be deep and real."
You also come mainly from a comedy background. Were there any scenes that were particularly difficult to get through in this film?
I remember watching Amandla in the scene after Khalil's been shot, watching her do it over and over. That was hard to watch her emotionally have to grapple with it, and watching George come in and talk to her. Watching her, as an artist, relive it. It was very difficult on the set, emotionally, when Russell Hornsby's character has just been arrested and thrown on the ground. Some were more difficult to watch, and some were more difficult to do, but we did laugh a lot on set. We broke with jokes, just like people in real life who are in situations. I mean, black families are always laughing, even in tragedy. I think you can't survive without a reprieve from it.
Moving into the Culture Diet questions, what's the first thing you read in the morning?
It depends on what's going on, but a lot of times, it's my lines for whatever I have to shoot that day. If I do it when I wake up, I remember them a little bit better.
How do you get your news?
Oh, I stay watching the news. I have MSNBC on now. I do a lot of local news, but I like Nightline and 60 Minutes. Every now and then, I'll do CNN, but MSNBC is the one I watch the most.
What books are currently on your bedside table?
One that I loved was The Gaia Project 2012: The Earth's Coming Great Changes by Hwee Yong Jang. I just ordered three new books, not for any reason, someone just said that they were great. I like a lot of spiritual books. A Baptist Preacher's Buddhist Teacher is about to be my latest read, and it's about Ghandi's influence on Dr. Martin Luther King, Jr. That's gonna be a good one, right? That should be at the house in 48 hours! [Laughs.]
What are some of your favorite social media accounts to follow?
I really love Design Milk. Animal Addicts is good. There's another one with animals and babies, it's one of my favorites! They're so cute. I love @spiritualthoughts. I like Nat Geo, too.
What's the last thing you googled?
I was reading about Shirley Chisholm.
What television shows have been keeping you up at night?
This is embarrassing, but I'm addicted to Forensic Files. There's a new one that just came out about people who almost died. One time there was an episode of Something's Killing Me that was about a brain-eating amoeba that affects children, and it happens in warm saltwater, so like in lakes. Kids would go on vacation and swim, and you know when they kind of inhale in the water, the amoebas would eat their brains. It started off looking like meningitis, and there have been kids who died! There was another one where a husband—a doctor—was poisoning his wife, because he thought she was leaving him. He was older and she wanted another baby, so he thought she was trying to divorce him, and he would pretend to help her get pregnant by saying he found a study that said creatine or some protein helps with pregnancy, but it was arsenic. He put it in her protein shake and killed her!
You should narrate a true crime podcast. Have you been listening to any podcasts lately?
Sometimes I listen to Michael Rappaport's because I've been on it, and I listen to Unqualified because of Anna Faris.
What's the last movie you saw in theaters?
With a touch of vanity, I would have to say it was my own. I actually saw Support The Girls. That cast is just such wonderful young girls.
What's the last concert you went to?
I'm so upset because I can only tell you the last one I was supposed to go to, and that was Beyoncé.
Why didn't you go?
I had to work! I had a 4:30 A.M. call the next day, and I just couldn't go.
What's the last thing you do before you go to bed?
I have to take a bath every night. It's literally the last thing I do. I don't know how people can go to sleep without it!