Regina Rex's Artful Tribe
13 artists collaborate on something bigger than themselves.
---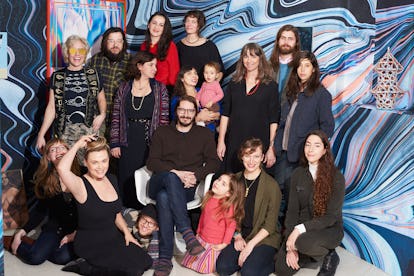 Trying to get the 13 artists and collaborators behind the New York gallery Regina Rex together in one place—say, to sit for a group portrait—is tantamount to herding cats. One person disappears to fix her hair; others run off to the corner bodega; and the artists' children, who are all unofficial members of the collective, are continuously wriggling free from their parents. "Oona has been to more meetings than some actual members," cofounder Angelina Gualdoni says of her colleague Anna Schachte's 4-year-old daughter.
But Regina Rex, which was started by 12 artists in Brooklyn in 2010, has found success amid the chaos. "We're maintaining the spirit of equal voices but also starting to create actual positions," Gualdoni says. Since moving to Manhattan last year, the gallery has exhibited the work of young stars like Elizabeth Jaeger, while maintaining an intergenerational emphasis, as in a recent show that put sculptures by Dit-Cilinn, 31, next to canvases by the late Shirley Gorelick. And unlike other artist-run spaces, Regina Rex has a policy of not showing the work of its members. Their kids, on the other hand, have the run of the place. As Max Warsh, another cofounder, says, "Where else are we going to put them?"