Rem Koolhaas Is on the Edge of His Seat
Finally, a chair even the 6 foot 3 architect can love.
---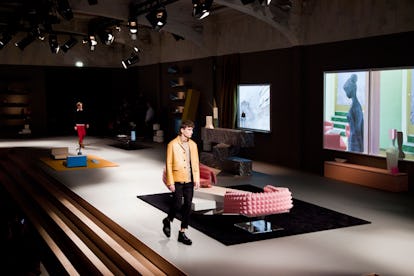 Rem Koolhaas's obsession with instability should be at odds with his profession, but in fact it has made him one of the more daring and innovative architectural minds of our time. It is writ large in buildings like the CCTV tower in Beijing, with its anxiety-inducing double cantilever, or in the multilevel house he designed for a wheelchair-bound client in which a room-size platform served as both office and elevator. And this obsession plays out, in many shapes and forms, in his first furniture collection for Knoll. From 08 Perch, a capsulelike stool that changes height with the touch of a button, to 04 Counter, a large, seemingly precarious cantilevered counter/storage unit, nothing in the 11-piece collection has a fixed identity. Even the applications are up for grabs. Some of the pieces served as the accoutrements of the Ideal House set in the Prada men's show in January in Milan, but it's not hard to imagine the shape-shifting chairs and tables in an office or even an upscale bar. This disregard for boundaries is something Koolhaas finds very appealing—and the freedom of working on a small scale, he says, has been a revelation. But at the end of the day, as a man of a certain stature (he's 6 feet 3), perhaps Koolhaas can simply appreciate the beauty of an adjustable chair.
"I never thought about it like that, but maybe it's true," he concedes, with a laugh. "Touché."