Remembering S.I. Newhouse, Jr., Arts Lover and Patron
In his editor's letter to W's 2017 Art Issue, editor-in-chief Stefano Tonchi recalls the great magazine eminence as a devoted supporter of the arts.
---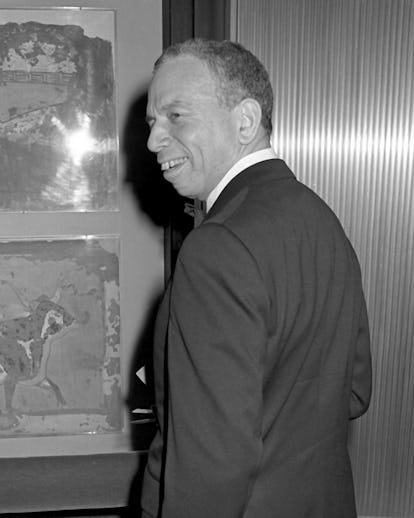 Ron Galella/WireImage/Getty Images
S.I. Newhouse, Jr.'s passing, in October, leaves a void not only in publishing but also in the larger cultural universe. I knew Si, the celebrated owner of Condé Nast, for a shorter period of time than did other editors, but he made a lasting impression on me. In the fall of 2010, a few months after he asked me to edit this magazine, I presented to him, and to a room full of male executives, my first W Art Issue. On the cover was Kim Kardashian—who was not yet the ubiquitous digital meme she is today—completely naked, with a few words strategically positioned on her body by the artist Barbara Kruger. I had no clue what his reaction would be.
"You have courage," he said with a twinkle in his eyes, after poring through the issue; that was it. Si truly loved art—not to mention an attention-getting cover.
In the years that followed, he never once censored any idea we dreamed up, however crazy it may have seemed. What he offered was interest and curiosity, especially when it came to stories involving artists, art dealers, and collectors. He once said that he read every one of his magazines cover to cover, and I absolutely believe that he did. I will miss the little notes he would send me when he was especially taken by a feature or photograph.
His impressive art collection, which includes some of the most important works of the past century, is only a small demonstration of his deep understanding of and true commitment to art. In a world where collecting had already become a form of investment and social currency, his genuine passion for the lives of artists was a rare quality. I vividly remember the first time I was invited to his residence, with the late New York Times critic Herbert Muschamp. I admired the Jackson Pollock in the dining room, the self-portrait by Francis Bacon next to the one by Lucian Freud, the Jeff Koons silver bunny by the windows. But what astonished me was the ­sincerity and emotion with which Si shared those works with us. As much as he enjoyed covering the beau monde in his magazines and featuring the people whose names are on galleries and museums, he was a deeply authentic and private man. It is a testament to his modesty and intelligence that, in this era of self-promotion, it is almost impossible to find public images of him and his wife, Victoria.
Authenticity is at the core of this year's Art Issue. Under the leadership of Arts and Culture Director Diane Solway, we worked with a group of artists who have dedicated themselves to fulfilling their creative mission over their long careers. Carrie Mae Weems is an important mentor for an entire generation of artists. Her work, dealing with race, gender, and the narrow ways in which African-­Americans are represented in images, both reflects on and expands our ideas about how women and their accomplishments have been portrayed in the United States. Through Weems's lens, Mary J. Blige, the queen of hip-hop soul, becomes the subject of a narrative about her private life. In the movie Mudbound, in theaters now, Blige gives a breakout performance as a sharecropper's wife in rural 1940s ­Mississippi. That experience, she explains in "Crowning Glory," was as important to her personally as it was professionally.
Watch: Mary J. Blige Talks About Meeting Michael Jackson
The merging of art, music, and performance, combined with its focus on black excellence, is also what makes the Underground Museum, in Central Los Angeles, one of the most innovative cultural institutions in America. As Solway writes in "Yes We Can," guided by the blueprint of its founder, Noah Davis, who died in 2015, and now overseen by his wife, Karon, his brother, Kahlil Joseph, and other family members, the UM has rare convening power due to its ability to create a home for important dialogue and bring exceptional exhibitions to an overlooked community.
Cindy Sherman is another artist who has opened many doors for the generations that followed her. In her exclusive project for W, she made a series of Instagram plandids—planned candids—that combine her lifelong investigation into female identity with the selfie takeover of the moment, using apps like Facetune, YouCam Makeup, and Perfect365 to reshape the meaning of self-representation.
The iPhone also plays a key role in the work of Anne Imhof, the young artist who won the Golden Lion at the 2017 Venice Biennale for her work at the German pavilion. Imhof created a portfolio starring Eliza Douglas, her fiancée and a performer in her work, in which Douglas becomes a new kind of power woman. Time-based media is the focus of Julia Stoschek's collection in Düsseldorf. Her museum for video art is one of the first privately run spaces in the world that is completely dedicated to analog and digital video, multimedia environments, Internet-based installations, and performance pieces ranging from the 1960s to the present.
As I was reading these stories for this issue, I couldn't stop thinking about Si and what he would have made of all this. It occurred to me that making art is all about challenging expectations and venturing into unexplored territory. The same can be said for making magazines.