Rent: Live: Meet the Star-Studded Cast Headed to TV
Tinashe, Vanessa Hudgens, and Mario are all doing the TV-musical thing in Fox's new Rent: Live.
---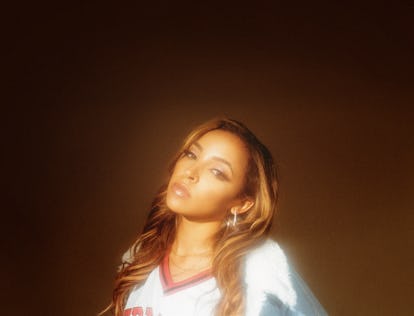 After Grease: Live, The Wiz Live!, Hairspray Live!, and a whole bunch of others, it was only a matter of time before Rent also got the live-television-musical treatment. On Monday, Fox announced the cast for its upcoming remake of the 1996 musical, a contemporary retelling of La Bohème set in New York at the height of the AIDS crisis. The musical's original cast included a pre-fame Taye Diggs, Idina Menzel, and Anthony Rapp, all of whom ascended to fame in part thanks to their roles in the musical and who reprised those parts in its Chris Columbus–directed 2011 film adaptation.
All this is to say: Any new cast has quite a lot to live up to. Here, get to know the actors and musicians—many of them familiar faces—who will take up some of the best-known roles in the contemporary theater canon (and in high school repertory everywhere).
What you know her from: Her three albums, Aquarius, Nightride, and Joyride, and a recent, brief stint on Dancing With the Stars. Who she'll play: The lead role, Mimi, an HIV-positive heroin addict who works as a dancer at a local club—a part previously played by Rosario Dawson and Renée Elise Goldsberry.
Brennin Hunt
What you know him from: One episode of Nashville; a short stint on the American X Factor. Who he'll play: Roger, a musician who lives with Mark, an aspiring filmmaker. HIV-positive and recently sober, he strikes up a romance with Mimi, who lives downstairs.
Jordan Fisher
What you know him from: Dancing With the Stars—he won last season—and for taking over the role of Philip Hamilton and John Laurens in Hamilton, his Broadway debut. Who he'll play: Mark, the filmmaker roommate of Roger. "Y'all know I'm always sipping on some tea I'm frankly dying to spill. What y'all don't know is that fourteen years ago, my ultimate dream I wanted to see manifested was to be the first Mark Cohen of color," he wrote on Twitter Monday. "That dream is about to be realized. Can't wait for this journey."
What you know her from: High School Musical and its various sequels, Spring Breakers, and her role as Rizzo in Grease: Live. Who she'll play: It seems almost unfair that Hudgens gets not one but two live musical parts, but here we are—she'll be playing Maureen, the role originated by Idina Menzel. Maureen used to date Mark; now she's dating Joanne.
What you know her from: A handful of Disney Channel shows, Dope, playing the Iris West to Ezra Miller's Flash. Who she'll play: Joanne, a relatively straight-laced lawyer who's dating Maureen.
Brandon Victor Dixon
What you know him from: The Color Purple and Shuffle Along on Broadway, playing Aaron Burr in Hamilton after Leslie Odom Jr. departed the production, and the live version of Jesus Christ Superstar earlier this year. Who he'll play: Tom Collins, a computer science student who falls in love with the drag queen Angel.
Valentina
What you know her from: RuPaul's Drag Race, and keeping her mask on. Who she'll play: Angel Dumont Schunard, an HIV-positive drag queen who helps out Tom Collins after he's been mugged. She also kills Benny's beloved Akita, Evita.
Mario
What you know him from: The song "Let Me Love You," the first Step Up, Freedom Writers, and, soon, Empire. Who he'll play: Benjamin "Benny" Coffin III, the defector: previous roommate of Mark and Roger, formerly involved with Mimi, now just trying to collect their rent.
Related: The Best Broadway Backstage Photos by Beyoncé, Harry Styles, and More Celebrities