Vanessa Hudgens Says High School Musical "Completely Derailed Me" in a New Interview
Hudgens may have floundered for a bit, but she's found a new ambition: becoming Jennifer Lopez.
---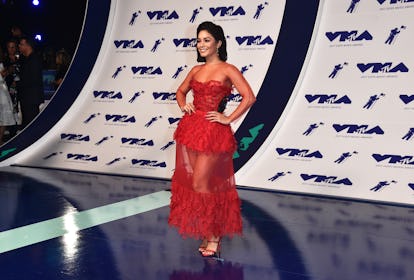 Alberto E. Rodriguez
In four months, Vanessa Hudgens will turn 30. Despite her young age, the actress has already had an illustrious career, with roles in Harmony Korine's Spring Breakers, opposite James Franco, and the upcoming film Dog Days. Of course, for a specific set of 20-somethings weaned on Disney Channel Original movies, she will forever be immortalized as Gabriela, the singing, dancing, shy-girl love interest opposite Zac Efron in High School Musical.
In a new interview with The Guardian, Hudgens looks back on this varied resume—and especially how her outlook has changed in the past five years. After all, from a young age—her "goal since I was, like, 11"—she knew she "wanted to be in the movies where I'm playing a drug addict or a stripper or a prostitute." High School Musical might have "derailed" that for a time, but as the writer Amy Nicholson points out, she did eventually have her shot at both, in Gimme Shelter and Sucker Punch. Then came Spring Breakers, another "corrective" to High School Musical.
When she was 25, she says, "I was like, 'I've got life covered! We're good! Smooth sailing!'" Two years later, "I woke up at 27 and I was like, 'I have no idea who I am and what I'm doing,'" she describes. Incredibly relatable content. Now, at 29-going-on-30, she's found another niche: By the end of the year, she'll have appeared in Dog Days, the Netflix movie The Princess Switch, and Second Act, which stars none other than Jennifer Lopez. In Second Act, Hudgens's character turns to Lopez's and says, "You're who I want to be when I grow up."
"This isn't acting. This is real," Hudgens told Collider in a separate interview. For so long, Hudgens may have thought she was lost—so good to be found.