The Restaurants Offering Takeout, Delivery, and Merch to Support Now
Support local restaurants like Sqirl in Los Angeles, Win Son in Brooklyn, and Goldie in Philadelphia, by ordering food, merch, or donating to their employee funds.
---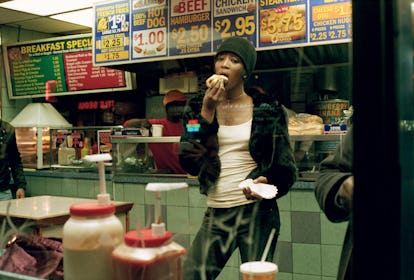 Ordering dinner from a favorite local restaurant is no longer simply a lazy way to treat yourself—it's become an act of supporting small businesses, which have been hit hard in the wake of the coronavirus pandemic. W's editors all hail from different hometowns, and we have varying favorites that we hope we can return to after the dust settles. Not all restaurants are in a position to even open for takeout—instead, they've initiated calls for employee fund assistance, or are selling merch to raise money. We'd like to and give shoutouts to our beloved spots, from New York City, where most of us are based, to Philadelphia, the Northern California Bay Area, and beyond. We hope to support these places while they're compromised, so that when social distancing restrictions are lifted, we can sit down there again and have a meal.
Sara Moonves, Editor in Chief
The Smile opened in 2009 in lower Manhattan and became a home away from home. One of my best friends from college, Matt Kliegman, opened the restaurant with another friend of ours, Carlos Quirarte. In the years that followed, many more friends worked there, and shared special occasions with the staff that became family. Since then, The Smile has expanded into its takeout sister location, The Smile to Go, as well as a catering business which has provided food for countless memorable W shoots. Since the COVID-19 crisis began, the restaurant has closed all its locations. To provide support for the team, The Smile has partnered with clothing Deer Dana, which is doing a restaurant relief capsule collection; 50% of the proceeds from this t-shirt will go to The Smile Family Employee Fund.
Jitlada is a Los Angeles institution. The family-run Thai restaurant is currently offering takeout and free delivery for any location within five miles of the restaurant. They are also selling Jazz's secret sauce (named after the restaurant's owner, Jazz Singsanong), a topping on the beloved off-menu Jazz burger, for $10. Order in their amazing Thai spring rolls and spicy duck salad and support this truly special restaurant.
Stephanie Eckardt, Staff Writer
Yes, I made fun of those who first asked people to donate to the Manhattan French bistro Lucien. But that doesn't mean I'm not going to do the same. Located at First Avenue and First Street, Lucien is a downtown institution. Honestly, the only things I've ever eaten there are french fries and table bread. (The menu is a bit out of my price range.) But I've more than made up for that in martinis and glasses of Beaujolais. A night at Lucien (I've only ever been at night) is about the scene, which means it's always crammed. If you count the elevated ledge against the wall, the crowd at the bar can go three deep. And if you stand on that ledge, you'll get an even better view for people-watching regulars and holdovers from earlier, tamer hours. (There are celebrities, too, if you're into that sort of thing; look close into a dark corner in the back and you might see Timothée Chalamet.)This might be a self-own in New York, where Lucien has a bit of reputation, but I don't care. I care about Lucien remaining exactly as it's been since 1998. Judging from the outpouring of tributes when its beloved founder, Lucien Bahaj, passed away last year, scores of others feel the same.
I don't usually tell people about Essex, which has always seemed a little too good to be true. The Lower East Side bar-restaurant is one of the unlikely places where it feels like it's always happy hour. And often, it is—there are $1 oysters and $7 cocktails a total 23 hours per week. Essex is also one of the only places in that neighborhood where you're practically guaranteed a prime seat; their new location, which is technically a few doors down from Essex Street proper, is just as spacious as the last. (And just as close to my apartment.) They're still doing takeout and delivery, as well as selling gift cards. And they're still offering happy hour-level deals: 25 percent off any gift card of $50 or more.
Andrea Whittle, Features Editor
Carissa's The Bakery, Amagansett, New York
Carissa's started out a couple of years ago as a tiny storefront bakery in East Hampton serving beautiful meringue-swooped tarts and elegant little cookies decorated with flowers. Last summer, they expanded to a full-service café in Amagansett that has now become a serious local takeout operation: If you're in the area, you can place orders for everything from roast chicken to chocolate croissants to bottles of natural wine for curbside pickup. They're also shipping loaves of their signature Salty Soured Pickled Rye bread nationwide. I highly recommend giving your sourdough starter a break and treating yourself to a chewy, dense, briny, delicious slice of this stuff. Toasted with butter and a little bit of cheese, it's heaven.
I keep a couple of jars of Sqirl jam on rotation in my fridge at all times. Not only are they delicious, they're also really cheerful to look at. There's just something about them. All of the flavors—like seascape strawberry, blood orange hibiscus or blueberry rhubarb—are fresh, tart and not too sweet. Perfect for stirring into a pot of yogurt or making a virtuous-seeming PB&J. They ship anywhere in the country, and I personally think the gift box set would make for a lovely mother's day gift.
Jenny Oliver, Social Media Manager
The Upper East Side's Hutch & Waldo is an Australian café that serves breakfast, lunch, and tons of beverage choices. The neighborhood spot has been stepping up to the plate when it comes to their response to COVID-19 since day one. The small but mighty restaurant has offered curb-side pickup for weeks, and you can also find them on Seamless. In addition to their in-store offerings, Hutch & Waldo has created a COVID Meal Relief Package for the medical teams who are on the front lines. Through this initiative, after making your choice of donation amount, you're able to write a letter of support to the front line workers, which is attached to their meals. Gift cards are also available for purchase.
https://www.instagram.com/p/B_qGunHnJYz/
Brooke Marine, Associate Digital Editor
At this point in quarantine, it seems like everyone has tried their hand at either baking sourdough or focaccia. But I really miss just ordering the focaccia at Faun, which is located in the Prospect Heights neighborhood of Brooklyn. It's a casual Italian restaurant with a simple menu that rotates fairly often, but they always keep a good plate of pasta and their focaccia as an option. The pork chop, cresta di gallo, and the chicken liver mousse seem to make an appearance on the menu fairly often, too, and their wine list hits the spot.
https://www.instagram.com/faun.nyc/?hl=en
Café Rue Dix is a French-Senegalese cafe, restaurant and cocktail bar in Crown Heights, and I promise you there is not a disappointing thing on their menu. The steak sandwich, the spicy poulet sandwich, the branzino, and all of the cocktails are so tasty. They also own the concept store, Marché Rue Dix, which is conveniently located right next door, and a perfect place to step inside when you need to wait to be seated. But for now, they're just doing pickup and takeout only, or you can order some Senegalese hot sauce online.
https://www.instagram.com/caferuedix/?hl=en
Tilden Bissell, Digital Designer
Win Son & Win Son Bakery, Brooklyn
Win Son and its popular offshoot across the street, Win Son Bakery, have become East Williamsburg classics with their laid-back Taiwanese-American fare. My roommate André and I could wax eloquent on the fan tuan at Win Son Bakery for hours. Actually, we still do, quite frequently. Luckily for us, both are serving an abridged menu for pickup and delivery via Caviar. For brunch, the bakery offers scallion pancake breakfast sandwiches, millet mochi donuts, and the aforementioned fan tuan, a sticky rice roll stuffed with veggie or pork and Chinese cruller, while Win Son proper has a selection of noodles, buns, and my personal favorites, vegetables like pea shoots and marinated cucumbers. The two shops also sell takeout cocktails, wine and liquor, pantry staples like chili crisp, and merch with Win Son's signature black bear mascot on it.
Before the Coronavirus, I loved to go to Center City to grab one of Goldie's tahini milkshakes and walk around by the Barnes or Rodin Museums, so I was delighted to find out that they were doing curbside pick up at their Samson Street location. Anyone who has talked to me for more than five minutes knows I swear by putting tahini in everything. As I write this, I'm baking tahini brownies for my neighbors, so this may sound biased—but I assure you, Goldie's frozen treats are worth the brain freeze. I don't know what alchemy Goldie uses in their recipes, but somehow they make the dreamiest, creamiest vegan milkshakes which come in original and Turkish coffee if you need a little extra buzz. Their falafel and fries are just as amazing, plus they've raised $110,000 to support hourly staff from their three locations.
Maxine Wally, Senior Digital Editor
This Japanese-owned sushi restaurant, located in the Crown Heights and Prospect Lefferts Gardens neighborhoods of Brooklyn is open for partial business, with a truncated menu available for delivery or pickup only. Five specialty bowls are for sale—a riff on their signature sushi "cups," which consist of their house-made sushi rice with various kinds of fresh fish and garnishes. The emphasis here is on fresh: there is a focus on quality at Silver Rice, and this hasn't been compromised during quarantine. Pickled vegetables, salmon sashimi, tamago egg, crab, and eel are still made to the restaurant's high standards.
Starline Social Club, Oakland, California
I have a personal connection to Starline Social Club: its location used to be 2232 MLK, a performing arts center where I went to parties in high school. Now, it's become Starline, a bar, restaurant and events space that's a nightlife fixture in the East Bay. In the immediate fallout of the coronavirus, Starline had to close its doors. But beginning today, Starline is reopening to offer pickup and, at a later date, delivery on food, drinks, and merchandise.
Cholita Linda, Oakland and Alameda, California
Like all restaurants specializing in dine-in, Cholita Linda's locations in Oakland and Alameda have now shifted to fulfilling takeout and delivery orders only. No problem—the fish tacos, delicate and bright, topped by Cholita Linda's signature orange sauce; and its hearty asada sandwich, are still on the menu, ready for your consumption.
Allia Alliata di Montereale, Special Projects Editor
This family-owned importer/distributor of Italian food products usually services restaurants and retail operations throughout Southern California, but you can also order directly from them on the phone and do curbside pickup from their store in Santa Monica. My family orders a bunch of olive oil, frozen homemade pasta sauces, focaccia and prosciutto every week. It is the best.
Related: What W Editors Are Cooking, Baking, and Eating to Stay Sane