Richard Gere and His Wife Alejandra Silva Are Expecting Their First Child Together
He's expecting his second child.
---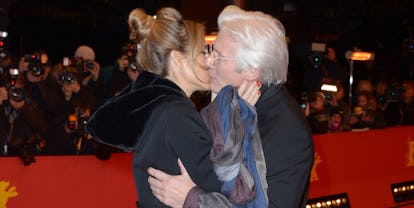 Dominique Charriau/WireImage
Richard Gere is about to become a dad again. The 68-year-old is expecting his first child with 35-year-old activist Alejandra Silva, as the Spanish publication ABC notes.
While Gere has yet to confirm the news — his publicist told Page Six they were unable to do so at the time — his wife hinted that they wanted to grow their family in April. "I was a little lost, without light, and knowing him gave meaning to my life. It was feeling that someone was reaching out and showing me my true path," she told Hola!, to which Gere added, "I have found the quiet and happy life that I have always sought."
It was that month that he and Silva wedded in a quiet ceremony, before celebrating with friends and family in New York City. Gere is on his third marriage with Silva, after his first wife Cindy Crawford and, later, Carey Lowell, with whom he shares an 18-year-old son, Homer. Silva has also brought a child to their marriage: her five-year-old son. Gere and Silva met eight years ago in Positano along the Amalfi Coast, but married four years later.
They recently celebrated their three-month wedding anniversary, with Silva writing on Instagram, "Today it's been three months of a very special moment in our lives when we went happy, not only because we where able to share the joy of our mutual love with friends and family, but also because we had the opportunity to express our aspirations for the future. Aspirations to make our spiritual journey the core of our life together. To help each other on the path to enlightenment, watering the seeds of love, compassion, generosity, ethics, patience, effort, concentration and wisdom in others. As we move along this path and suffer the various ups and downs of life, we aspire to transform them into the path of love, compassion, joy and equanimity. ✨??"
Hey, if Mick Jagger can raise a baby at 73 years old, Gere should have no problem doing so at just short of 70.