Richard Jenkins
In more than 50 films, He has shone in the background; this year's The Visitor placed him front and center.
---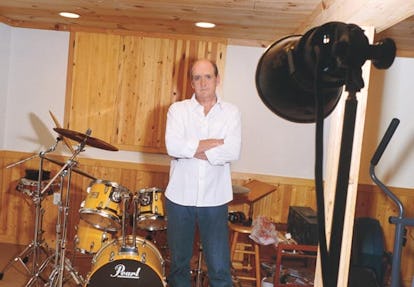 Being a character actor with such movies as There's Something About Mary, North Country, Flirting With Disaster and the recent Will Ferrell hit Step Brothers in his long and eclectic filmography, Richard Jenkins has a tendency to get sort of recognized as he goes about his daily life. The backhanded compliments can provide ample comic relief. A stranger will ask him, "What have I seen you in?" Jenkins might name, say, the Jim Carrey comedy Me, Myself & Irene, and the stranger will proceed to argue, "You weren't in that! Why would I ever watch something like that?" Because of his resemblance to a certain comedian, a woman on a plane recently queried, "Were you on The Bob Newhart Show? Because you look like Bob Newhart." (He wasn't.) And, of course, there is the pièce de résistance: "You're my favorite actor! What's your name again?"
Jenkins, with Haaz Sleiman, in The Visitor.
Jenkins—who has appeared in more than 50 films to date—got his start in the movie business relatively late in life. After graduating from Illinois Wesleyan University and completing a year of graduate studies in theater, he moved with his wife, a choreographer, to Providence, Rhode Island, to join the Trinity Repertory Company. (One of his early productions there was a musical about the serial killer Charles Manson; JoBeth Williams was also an apprentice.) When Jenkins was 35, his current manager signed him after seeing his performance in a production of Philip Barry's Holiday, at the Long Wharf Theater in New Haven, Connecticut. He played the role that Cary Grant had in the movie version, but, Jenkins jokes, "I like to say Cary Grant was playing my part." (Another of the manager's clients, Viggo Mortensen, actually photographed Jenkins's head shots.) He has worked steadily in film since a featured role as the cynical neighbor in 1987's The Witches of Eastwick, but it was only recently, with The Visitor, that Jenkins, now 61, achieved any sort of leading-man status on the silver screen.
A quiet hit on the art-house circuit that opened in April and steadfastly remained in theaters for the entire summer, The Visitor, directed by Tom McCarthy (The Station Agent), tells the story of Walter Vale (Jenkins), a widowed Connecticut economics professor who is sleepwalking through life. He begrudgingly goes to New York for an academic conference, only to find a young immigrant couple, Tarek and Zainab, squatting in his pied-à-terre. Instead of calling the police, Vale strikes up an unlikely friendship with the duo; when Tarek faces deportation, Vale gets involved in the man's defense. The film will be released on DVD in October.
The role came about rather unexpectedly, says Jenkins over lunch at a café in Providence, where he and his wife still live. Jenkins happens to share an agent with McCarthy. In 2005 actor and director ran into each other in the lobby of a Los Angeles hotel and decided to have dinner. Two years later, the agent called Jenkins to say that McCarthy had written a script with the actor in mind and wanted him to play the lead. "I remember saying to my wife, 'You have to read this right now. You have to tell me if this is as good as I think it is,'" recalls Jenkins, who has a charming affability that stands in contrast to Vale's muted mien. Then he phoned McCarthy, with whom he hadn't spoken since their impromptu dinner. "Tom said, 'Whaddya think?' I said, 'Nobody's going to give you the money to do this movie with me in this part.' He said, 'That wasn't my question. The question is, do you want to do it?'"
It was never McCarthy's goal to "resurrect the career of Richard Jenkins," he says. "It was a calculated gamble. I knew Richard would deliver, and it would benefit the movie in a fabulous way. He's built up so much goodwill in Hollywood, and it's a pleasure to see a guy you really like turn out a great performance."
The rest of the industry seems to agree with McCarthy's assessment of Jenkins's unsentimental, reserved star turn. Oscar buzz has surrounded him since the movie's premiere at the 2007 Toronto Film Festival, though Jenkins is hesitant to acknowledge the chatter. "I didn't say it, you said it," he quietly admonishes when talk turns to the possibility of a statuette. "I didn't get in the business for the awards." The idea of being celebrated by his peers, he demurs, "is flattering, but there are so many movies in the fall and so many performances." And while he admits that the film has made him more "visible," he points out that this doesn't mean he'll ever headline a super­hero blockbuster or grace the cover of GQ. "I can be on the cover of AARP," he says, laughing. "It's not like I'm going to be the next James Dean. I am who I am. I was always curious what it would be like to carry a film, and I'm grateful that I got to do it."
Overall, life for Jenkins hasn't changed much. He still shops at Costco and has no plans to trade Providence for Beverly Hills. He tried making a go of L.A. in 1975, he says, after his daughter, who is now an actress living in New York, was born. (His son is an accountant in Boston.) But, he remembers, "I couldn't get anywhere. I didn't know anything. I was so broke, I had to borrow gas money from my uncle in San Bernardino to get home to Rhode Island. "
With Frances McDormand and Brad Pitt in Burn After Reading.
Now Jenkins finds himself in the coterie of Holly­wood's most successful filmmakers, even if his roles remain more under the radar than above the title. He appears in many projects from the Farrelly brothers, who grew up on the street where Jenkins now lives, and regularly works with Joel and Ethan Coen. (He is the goofy manager of a gym in their new black comedy, Burn After Reading.) Lately he has been welcomed into the Judd Apatow family, with a turn as the patriarch of Ferrell and John C. Reilly in Step Brothers. "I'm the oldest guy in the movie now," Jenkins says. On the set of Step Brothers, Ferrell and Adam McKay, the movie's director, were so impressed by Jenkins's wide array of acting experiences that they asked him to star in a few comic shorts for their Web site Funny or Die. The result is "Hollywood Tales With Richard Jenkins," which parodies the kind of actor's actor who thinks he knows everything there is to know about the business they call show. "One day I'm in craft service having lox with Cher…" Jenkins says in one video, before launching into a crackpot story about Michelle Pfeiffer's daughter, an affair and a gun.
Guys like that couldn't be further from the real Jenkins, who is self-deprecating and something of a no-nonsense workaholic. "When he's not working he gets a little cranky," McCarthy says. "He's like a blue-collar actor, a coal-mine actor. He puts on his hard hat and goes to work." And just going to work is exactly what Jenkins wants to do—despite all the recent attention. "The truth is, I had no complaints," he says, finishing a tall glass of iced tea, of his career pre-Visitor. "I was thrilled with my life before Tom called me. I got to do so many different things. I love making movies. It's a great profession. The people in movies—I just love 'em. It's like a little group of gypsies that get together for a few weeks. You make camp, and you do this thing, and you go. And you may not see them for years, but when you do, you just pick up where you left off. I like that."
Photos: The Visitor: Jo Jo Whilden/Visitor Holdings LLC; Burn after Reading: Macall Poly/Focus Features