Richard Phillips on Sasha Grey
Richard Phillips turned from his iconic paintings to explore two very provocative women through film, fledgling tabloid fixture Lindsey Lohan and ex-porn star Sasha Grey. In "Sasha Grey," the evocative 90-second film is shot in...
---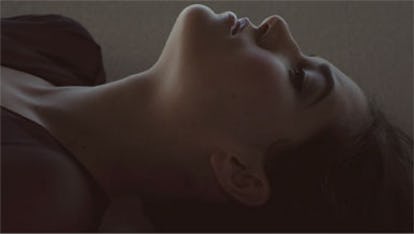 Richard Phillips turned from his iconic paintings to explore two very provocative women through film, fledgling tabloid fixture Lindsey Lohan and ex-porn star Sasha Grey. In "Sasha Grey," the evocative 90-second film is shot in the striking John Lautner Chemosphere House off Mulholland Drive, a particularly poignant choice as the panoramic views overlook the San Fernando Valley landscape—the location of some of her most noted adult performances. Grey doesn't say a word but manages to convey both melancholy and also a sense of evolution. Perhaps not surprising then that she announced her retirement from the adult entertainment industry only one month before the May 5th filming.
Both films will be played on a giant mobile video screen floating through the center of Venice as part of "Commercial Break," presented by the Garage Center for Contemporary Culture during the Venice Biennale.
We spoke with Phillips on the eve of the premiere:
Sasha and Lindsey are two provocative women, why did you choose them? I think that they're both at really important turning points in their young careers. And each for very, very different reasons. But insofar that they are turning points, what I wanted both of my films to really explore was positive trajectory of what their potentials really are, away from what the media has portrayed them and away from what society generally heaps on top of them, obviously for really different reasons and different contexts.
What was it about Sasha, in particular? Sasha, in five short years, in her adult performance—which I'm using the term that she calls it—literally conquered the international adult performance world. She has shown this clear intention to move into her artwork and film with Soderbergh's The Girlfriend Experience and with her work on Entourage, both of which I thought were really sensational and really showed her potential as an upcoming actress. I was really inspired by that in the sense that here's someone who's at the top of her game in one profession and is deciding to make this important transition at a really young age into a different form of art. And I thought that is a really inspiring message that I want to look at in a really positive way.
It is beautiful, but also haunting and a little sad. What were you trying to convey? I think that there is a kind of a gravitas in a way. In the adult performance film, rarely do you see that side of Sasha. Or even in the way Soderbergh portrayed her, there were hints of that, but what we wanted to do was not have this film have any relationship to the adult world. We wanted to look at the dramatic potential of her and her acting as an autonomous experience. One that in a way surveys her circumstances but then projects much more. Has a more psychological portent in looking at the psychological consequences, or at least psychologically of what has come before.
Though she still exudes this sexuality. Absolutely. She is one of the brightest and most articulate exponents that I've ever heard about sexuality today. She is very, I guess the term would be 'pro sex', the term used in certain forms of art. She is, in any of her performances and in anything she has written or spoken about, is empowered by sexuality and definitely has made an extraordinary impact on the world with it.
How did the collaboration come to be? We were introduced by a friend and talked about collaborating in some form, although it wasn't a specific form. Film wasn't discussed. It really had much more to do with painting. We had a dialogue back and forth about where that possibly might go. For me, using the reference point of the Godard's Contempt and Bergman's Persona were in a sense grounding points for both films though they had very different results. I think that that is something that Sasha responded to differently. I think those more emotional projections that come from Sasha's performance, that sadness or gravitas, was part of the discussion we had about being in a consequential point in one's life where the decision to live within one's art, there is sacrifice, there are challenges that are involved within that, and it does get expressed in sometimes more serious terms.
Why video rather than one of your iconic paintings? This is a really important point. The last show I did in London, titled "Most Wanted," were appropriations of red carpet images of kind of the world's most sought after celebrities. They were red carpet appropriations that showed them in front of commercial backdrops. In that sense I was thinking that art had reached this point that it was necessary for a celebrity endorsement and a luxury brand for it to be art at all. In that way, they were minimal paintings that just addressed their own self-necessity. So with these films, I was trying to really move past that. I felt like I really bottomed out that type of logic and I really wanted to look at what's behind all of this and people with real experiences going through transformations with their lives. And I think that it was an extraordinary opportunity to explore a post-appropriation type of artwork in a sense, where I felt like I reached an endpoint with appropriation, it needed to be a content that was connected to individuals and this transformational state, which, in a sense, I felt like I was going through too by making the decision to renounce appropriation.
What was the song in the background? In both films, the music is done by women that are the same age as the two actors that are in the film, which was important to me as a part of the experience of looking at them. In Sasha's film, it's this song called "Moses" by Chelsea Wolfe, this young dark folk musician. Her album called The Grime and The Glow has been very, very inspirational to me as has Tamaryn's The Waves. It was the soundtrack to the other film. Music to me is very, very important in both films, but in Sasha's it takes an even more important role in that if you follow the lyrics and then follow the precise emotions or movements that are happening within the film, there are these oppositions that are set up. When she says, "I can't," you see Sasha in the position of straightening her sweater and it's very much "I can," or when it says, "It's heavy," she's lightly putting her hand on the glass of the door. So there are not only spiraling visual narratives or micro narratives going on within the film but also a relationship to what Chelsea is singing. Not coincidentally, Sasha is also a musician and her band is on the same label as Chelsea's, though I still don't think they know yet that the two are joined together. I'm sure they'll be happy to find out.
"Sasha Grey" by Richard Phillips