Richard Prince's Kim Gordon Portrait Lands Him in Hot Water
The artist's "New Portraits" series has proved to be a legal headache, but maybe pushing the limits of fair use laws is the the point?
---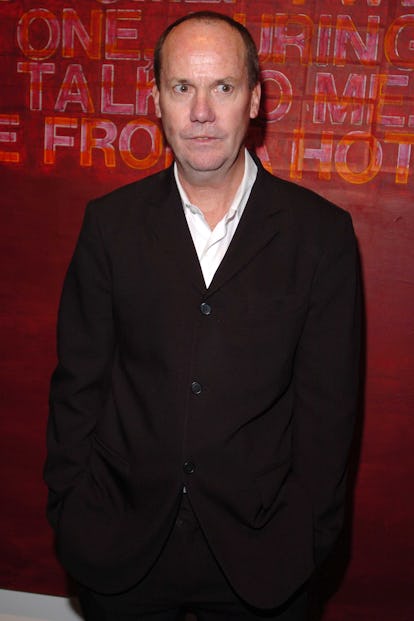 Patrick McMullan via Getty Images
Richard Prince may be the only artist whose preferred medium is legal gray areas.
In his work, Prince has long used methods of appropriation, utilizing a practice called "rephotography" in which he photographs others' photographs and claims them as his own. In another series that once appeared on W's cover, he used photographs of well-known celebrities and, with a silver Sharpie, signed them as if the celebrity was dedicating an autograph to himself. While he's been sued before for some of his works, he's generally been protected by working with public domain image or by the legal concept of fair use.
It's his latest series, "New Portraits," that's pushing the boundaries of fair use. The series involved large-scale reproductions of Instagram screenshots printed out on an ink-jet printer. In some cases, he commented on random people's Instagram accounts with his since deleted @RichardPrince4 account and printed it out. In other works, he posted images to his own account before printing them out.
The latter is the case in a new lawsuit filed by photographer Eric McNatt.
McNatt photographed former Sonic Youth rocker Kim Gordon for Paper's 30th-anniversary issue back in 2014 and subsequently copyrighted the work. A short while after the image was published, Prince posted it on his own Instagram account with the caption "Portrait of Kim Gordon," and an emoji-enhance comment mixing the lyrics to the Sonic Youth song "Kool Thang" and the old rock song "Wild Thing."
A year later, Prince's Instagram posting of the Gordon image, now printed out on canvas, was displayed in an exhibition at a Tokyo art gallery. A book, which also included the Gordon image, was also for sale.
To make things even more complicated, Gordon got wind of the work and approved of it. In fact, she posted an image of herself holding it and posted it to her own Instagram earlier this year.
It should be noted that Gordon and Prince have history. One of Prince's "Nurse" paintings was used as the cover art for the Sonic Youth album Sonic Nurse.
McNatt is perhaps understandably frustrated by the situation – he is not seeking damages, just a declaration the work is his – but some think that the whole negative and legal reaction to Prince's series may have been the point of them in the first place.