Ricky Martin Confirmed He Secretly Married Jwan Yosef
But don't worry. You didn't miss the wedding.
---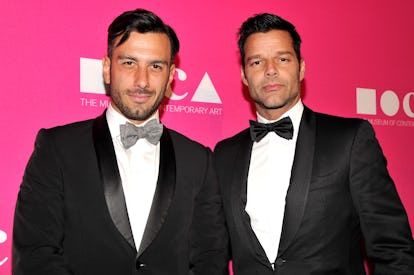 John Sciulli
If you're a close friend of Ricky Martin just finding out from this headline that he's already married to Jwan Yosef, don't worry. You weren't snubbed from the wedding invite list. It was just a low-key thing, and the big party is still months away.
"I'm a husband, but we're doing a heavy party in a couple of months, I'll let you know." Martin told E! News. "We exchanged vows, and we've swear [sic] everything, and we've signed all the papers that we needed to sign, prenups and everything."
Martin began dating Jwan Yosef, a painter of Syrian and Armenian descent who was raised in Sweden before eventually moving to London, in 2016. The pair first stepped out as a couple in May of that year during amfAR's The Foundation for AIDS Research gala in São Paulo and by November, Martin announced on The Ellen Degeneres Show that the pair was engaged (Martin was the one to pop the question).
Since the relationship went public, Yosef has become something of an Instagram star (he has over 328,000 followers) and isn't shy about occasionally sharing poolside updates.
Martin publicly confirmed that he was gay in 2010, and soon after went public with his then-boyfriend Carlos González Abell. Martin also become the father of two twin sons that were born to a surrogate in 2008.
Since then, Martin has been quite forthcoming with her personal life. Martin recently shared the cover of Architectural Digest with Yosef and his two sons, and even gave a video tour of the family's Beverly Hills home.
Martin will next be seen in the upcoming season of American Crime Story as Antonio D'Amico, the longtime partner of fashion designer Gianni Versace.