Rihanna Is In; Calvin Harris Is Nowhere to be Found
The singer channels Drake in a new video for "This Is What You Came For."
---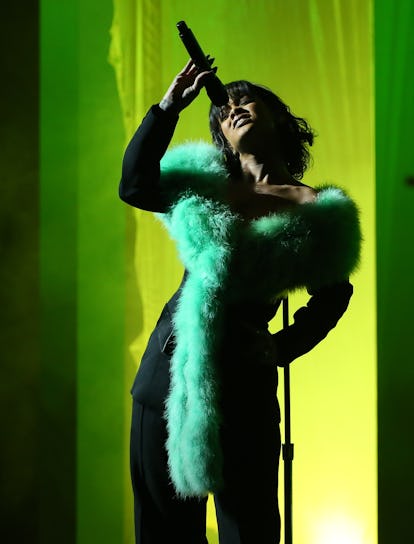 Rihanna on stage at the Billboard Music Awards in Las Vegas, Nevada, May 2016. Photo by Getty Images.
Boselli, Pietro Very smart and very hot. What's that they say about a man who can do both?
Douglas, Gabby Also: Beisel, Elizabeth; Johnston, Julie; and King, Morghan. The star power of Team USA continues to grow as the Rio Olympics draw closer.
Hamilton Lin-Manuel Miranda's musical train shows no signs of slowing down any time soon — the hit Broadway show will get a documentary treatment to premiere on PBS in the fall.
Prize, LVMH While Grace Wales Bonner and Vejas Kruszewski were busy winning the LVMH Prize, the rest of the cast presiding over the ceremony was busy Instagramming the proceedings. We've rounded up a few of the best.
Rihanna Star of (newly single) Calvin Harris's video "This Is What You Came For." (Notably, the DJ himself is virtually absent.) If Drake's Turrell-inspired cube from "Hotline Bling" got a virtual reality upgrade, this is what it would look like.
Shipka, Kiernan Star of Carolina Herrera Resort 2017, which debuted Thursday via the Snapchat-Hearst collaboration Sweet — Herrera, making a move for the youth.
Vaccarello, Anthony Posted teasers of his inaugural collection for Saint Laurent on Instagram, after the label wipes its social platforms in the wake of Hedi Slimane's departure. But notably absent from the teasers: clothes. What is he up to over there?