Rihanna, Fairy Godmother of Beauty, Did Her Fans' Makeup Herself at the Fenty Beauty Holiday Collection Launch
No matter the season, Rihanna has you covered.
---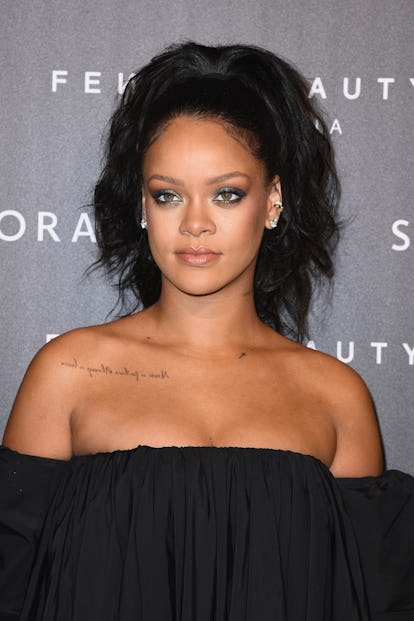 Pascal Le Segretain/Getty Images
In just a couple weeks, Rihanna's Fenty Beauty line has proved itself a wild hit. Of the 40 shades of foundation the singer-turned-beauty mogul designed to cater to myriad different skin tones—from "fair skin with warm yellow undertones" to "very deep skin with cool undertones"—14 have already sold out at Sephora online; reports also indicate the darker shades have been a particular hit, flying off the shelves at brick-and-mortar stores.
But not only has Rihanna got women of all skin tones covered—she's also got them covered for all seasons. On Thursday, Rihanna unveiled the Galaxy Collection, the new holiday line from Fenty Beauty by Rihanna, at a party in Paris. While Gwen Stefani was off releasing an early Christmas single, Rihanna was singlehandedly making your glitter-filled festive dreams come true.
Judging by an Instagram preview, the new collection comprises a shadow palette with 14 iridescent shades, including a deep purple, a royal blue, and a burnt orange, lipsticks and glosses in pale pink, fuchsia, orange, and mulberry (a useful addition to the existing line, which includes the "universal" gloss bomb), and a liquid liner.
The launch party was streamed on the Fenty Beauty Instagram, where the mastermind behind the line made the announcement: "Tonight, I'm going to be unveiling a special preview of the holiday collection," she said (and was, predictably, met with cheers), "and you're going to see it right here in person. I'm wearing it tonight." (For the record, she wore a bright sea-green shadow that stood out against her black minidress with puffy sleeves); she listed the seven products behind the look on the Fenty Beauty Instagram the next morning.)
Later, hovering near a display of the Galaxy Collection, she asked a fan if she wants to try the new shadow palette. (She's off camera, but one can only assume she nodded vigorously and maybe blacked out at the offer.) Rihanna picked it up off the display, peered at the colors, pulled out a brush (another new holiday addition to Fenty Beauty), and proceeded to touch up the makeup of several women in the crowd. Rihanna, beauty mogul, also a makeup fairy godmother.
Related: How Rihanna Single-Handedly Made New York Fashion Week Fun Again
What making W's September cover with Rihanna sounded like: