Rihanna Takes on Donald Trump and Ends Up at War with Azealia Banks
Rihanna started a fight with issues that matter, but has attracted the wrath of someone who most certainly does not in the process.
---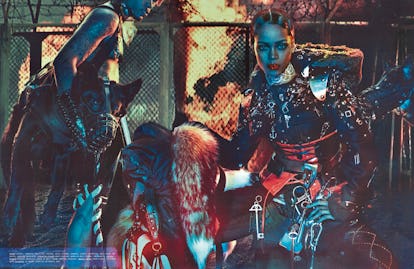 Photographs by Steven Klein, Styled by Edward Enninful
Rihanna is not someone to mess with. In the past, she's skillfully dispatched her specific, detached brand of Internet shade in feuds with the likes of Charlie Sheen, Amanda Bynes, and Ciara, and effortlessly won each time. Now she's set her sites on bashing someone who actual matters (Donald Trump) but has attracted the wrath of someone who most certainly does not (Azealia Banks) in the process.
The Barbadian-born pop star may not be able to vote, but she is a permanent resident of America (and does make this country and its businesses a ton of money) and isn't shy about letting her political views be known. It started with a fashion statement. Last weekend she debuted a particularly chic look for the Women's March.
Then over the weekend, she tweeted her take on Trump's travel ban.
For some reason, once promising rapper turned full-time Internet troll and on-and-off Trump supporter Azealia Banks decided to weigh in.
Banks, as you'll recall, closed out 2016 by admitting that she did to chickens in her closet what Rihanna did to her accountant in the "B**** Better Have My Money" video. You would have thought that that might have been the last straw, and some force in the universe would have emerged and recalled Banks back into the ether, like "Sorry about that! We've clearly made a mistake here! Please never pay attention to this person ever again." Silicon Valley has certainly tried. She's been banned from Twitter and Facebook, but she still has access to Instagram where she blasted Rihanna.
"As far as Rihanna (who isn't a citizen, and can't vote) and all the rest of the celebrities who are using their influence to stir the public, you lot really REALLY need to shut up and sit down," Banks, who ironically has a knack for using her remaining influence (or infamy, really, at this point) to stir the public for all the wrong reasons, wrote in an Instagram post that has since been related.
Rihanna took note, and posted a reply to Instagram without mentioning Banks by name.
Note the #stayawayfromthechickens, #iheartnuggets and #saveourhens hashtags.
She also posted a follow up reiterating her political feelings and ignoring Banks altogether.
Instagram Lights Up In Protest From Washington, D.C. to Paris
Supermodels confess their crushes on Rihanna: