Rihanna extra: All about the gloves, the hat & new tattoo
Being a big time stylist sounds like fun, doesn't it? They pick out cool clothes and dress up models and celebrities like paper dolls. And by the end of the day, everyone's best friends, right?...
---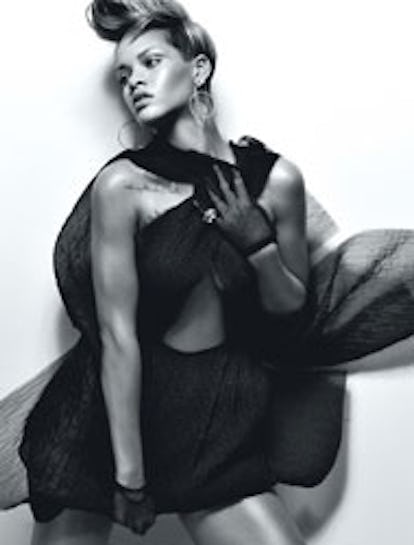 What was your inspiration for this shoot? The inspiration really kind of evolved. We were first thinking we'd do this kind of boudoir-ish look with pastels. Then when we met her, you could just see this cool factor that's totally her. She's not trying. So for instance, she loved that gorgeous snakeskin Dior trench—it was kind of this sweet and tough thing that we were playing with. That's her. She does have those two sides to her.
What do you think of her fashion sense? When it comes to fashion, so many [celebrities] are like, "Oh, whatever." They just don't like it. But she loved everything. We had the same taste so it was like two girls like playing with clothes and I haven't had that for years with somebody.
Really? Yeah! Most actors don't really love clothes. She just loved everything and was so enthusiastic. Every headband, every hat, every glove, all the jewelry. We had all the Van Cleef and the Dior and Cartier and she was dying over it all, as I do. So it was so much fun. She was the easiest, nicest—I'm telling you, I'm in love with her.
A big part of her look is her hair; it's very edgy. You gave her that hair-shaped leopard hat by Lola— That's always been one of my favorite hats, and knowing that Rihanna is so much about her hair, and loving her face so much—that hat really framed her face. Instead of just pulling her hair back, the hat was much cooler and It exposes the beauty of her face.
Yes and no. It was really a collaboration. I brought all of those accessories with her in mind and when she saw the gloves and started playing around with them. When I put the little Les Copains ones with the jewels on her hands, she was like, "No way!" She was loving it.
She had just gotten a new tattoo ["Never a failure, always a lesson" written in reverse], which is shown off by the Prada dress. Did you choose the dress with that in mind? We didn't choose the dress with that in mind but definitely, when we tried it on, it became an important element of the shot. I love tattoos and I think they're beautiful, and, again, meeting Rihanna, it's like they are a part of her life. Pulling the dress away and being able to reveal that tattoo was definitely an inspiration for that.
You work with a lot of fashion shoots that involve just models. What's the biggest difference between styling celebrities and models? The opinions. Celebrities have a lot of opinions and they're afraid to take chances. Models are there to wear the clothes and that's their job and it's fun. A lot of times it can be difficult with a celebrity. They don't want to wear something or their publicist doesn't want them to wear that so you have to navigate around that. But with Rihanna who loves clothes so much, there was no navigating. It was like dressing a model, but even more fun because she just loved it all. Basically I told her I better watch my back because she could be a stylist too.
Exclusive slideshow: From hip-hop cutie to edgy fashion icon, W traces the evolution of Rihanna's style.
Photo: Goldstein, Inez van Lamsweerde & Vinoodh Matadin.
Follow W Magazine on Twitter.