Is the Fenty Beauty TikTok House the New Rihanna Plane?
Everything we know about Rihanna's Fenty Beauty TikTok House, a hub for beauty influencers located in a Los Angeles mansion.
---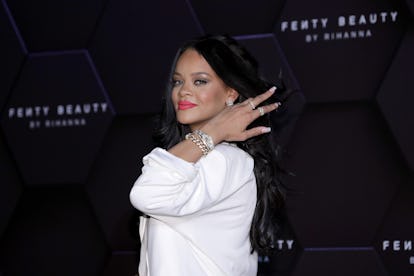 Han Myung-Gu/Getty Images
Is Rihanna's latest business tactic a move toward world domination? Probably not, but it's definitely a plan to conquer the TikTok beauty space.
The entrepreneur has bought a collab house for Fenty Beauty TikTok users, which she announced during a house party on Friday, March 6.
Rihanna got on the microphone and told everyone that they were standing in the first official Fenty Beauty TikTok home, a hub for beauty influencers.
"I just wanted to create a platform for the next wave of content creators," she said." I think our generation is the sickest, the illest, the most creative, and I can't do it alone. So to join in with the people who are influencing the world and my community and my generation, this is like a hub."
Rihanna is an entrepreneur who makes prudent business moves that position her to be ahead of her competitors—her size-inclusive NYFW runway shows for Savage x Fenty have existed in direct opposition to Victoria's Secret's messages of exclusivity and transphobia, she created the Fenty Beauty foundation in a range of 50 shades, and even after she partnered with LVMH for her luxury clothing line she made sure that some items would be sold at affordable price points. Creating a home base for TikTok beauty influencers who make videos with Fenty Beauty products is likely another avenue for Rihanna to put herself and her businesses ahead.
Last year, we conjectured that TikTok could be the next big beauty space. Turns out, that's coming true. There are over 500 million monthly users on the app, and a number of trends and challenges that have emerged from the short-form video arena are no longer limited to young, niche viewers. There are front-facing video comedians and children of celebrities and fashion darlings that run TikTok, with millions of followers. Of course, there are beauty influencers on there too, and it makes sense that a prudent entrepreneur like Rihanna would cash in on the hype.
Rather than joining TikTok herself, like every other celebrity trying to extend their brand to the platform—which would position her as corny, and you know it would—Rihanna has decided to let the influencers who are native to the platform and already understand its shorthand do the work for her. (How long, would you bet, until her brand's biggest competitors try to follow her lead?)
But it should be noted that Rihanna placed a troupe of her fans in a single place once before, and things got a little out of hand. Remember the Rihanna Plane? The performer's ambitious 777 Tour, in 2012, involved inviting press and fans to congregate on a Boeing 777 for seven days to jet to seven locations in seven countries for her concerts. For some members of the Navy (her stan army's name) it was kind of a Fyre Festival moment, before that concept was even a twinkle in Billy McFarland's eye. For others, it was just really exhausting to be trapped on a plane with 250 Rihanna fans for a week.
That was eight years ago, though, and Rihanna is not the first person to wrangle a bunch of TikTok influencers into one home.
The Hype House, a mansion in Los Angeles, is home to some TikTok teens and 20-somethings. It's supposed to be a "content creator collective" for 19 popular TikTok users, not unlike the YouTube vlogger collectives that had moved into big multimillion dollar houses in L.A. before them. It's like every day there is a big house party with no parents, but they're also creating content—so there is work to be done.
But the Hype House is not without its complications. Many of the girls who lived there were under 18, while a lot of the guys were in their 20s. Whether or not people are being appropriately compensated is another question. And there is dating drama, of course, which is just what's going to happen when a bunch of teens all live together, essentially unsupervised in an L.A. mansion. It's a little early to say so, but maybe the Fenty Beauty TikTok house will be different.
Emmy Combs, Challan Trishann, Savannah Palacio, and Makayla are some of the popular beauty influencers chosen by Rihanna to move into the Fenty Beauty mansion. Their introductory videos posted on Fenty Beauty's TikTok page already appear to have driven more engagement than many of the posts before them.
Remember, this Fenty Beauty TikTok house is the first one, which means there could be more. Now, if only she'd move to Northern California and get started on that vineyard.