Rihanna Is Finally Releasing a Skincare Line Called Fenty Skin
Rihanna's multi-million dollar cosmetics empire will now include Fenty Skin, a line of skincare products marketed towards everyone.
---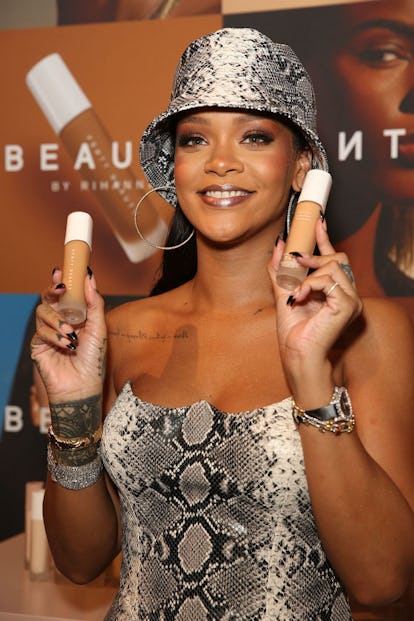 Caroline McCredie
The long wait is finally over. No, Rihanna is not dropping R9, but she is releasing a skincare line under the Fenty Beauty umbrella called Fenty Skin.
Throughout quarantine, Rihanna has announced she would give us a few Fenty products to shop. Her luxury clothing brand recently released a genderless line in three drops, a new shoe collection is available to purchase, and now she's giving everyone exactly what they need after being cooped up all day inside their homes for months at a time—some skincare products.
Fans of Rihanna and Fenty Beauty already know that these skincare products have been a long time coming—she's been teasing the idea of a skincare line for over a year, after people noticed that a Fenty Skin trademark was filed with the U.S. Trademark and Patent Office in March 2019.
Her cosmetics empire will now include "medicated and non-medicated skincare, soap, body care and personal care products (excluding color cosmetics, perfume and other fragrance-only products), and related accessories such as kits, tools and applicators" as part of Fenty Skin, according to the trademark. Products with names like Buff Ryder, Instant Reset, Fat Water, Flash Nap and Hydra Vizor will be sold under the Fenty Skin umbrella. It's unclear what these individual products actually do, but we're sure we'll find out in time.
Much like her latest Fenty luxury clothing drop, Fenty Skin will be marketed towards everyone. "Whoever told you skincare has a gender, LIED to you!" Rihanna tweeted before adding that "leaving my guys out" would be a "true sin."
At the end of the month, Fenty Skin will be available for purchase exclusively on FentySkin.com, but according to Rihanna's Instagram post announcing the new skincare line, she's offering an exclusive early access to people who sign up for the drop now.
Related: Rihanna's Latest Genderless Fenty Drop Lets The Clothes Do The Talking