Rihanna Maybe Heckled Kevin Durant During the NBA Finals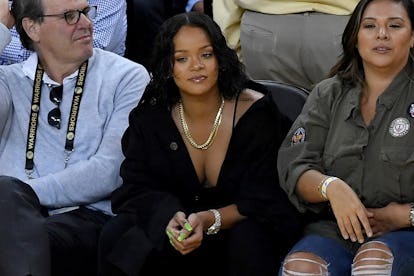 Thearon W. Henderson/Getty Images
If there's anyone who could get away with heckling eight-time NBA all-star and two-time Olympic gold medalist Kevin Durant during a championship game, it's Rihanna. Plenty of people think that's exactly what the longtime LeBron James superfan did while she sat courtside at Thursday night's Game 1 of the NBA Finals between the James' Cleveland Cavaliers and Durant's Golden State Warriors.
In a video shared by Twitter user Rob Perez, a voice can be heard yelling "BRIIIIIICK" while Durant sinks a free throw, which Perez attributes to Rihanna. Later in the clip, as Durant runs down the court, he looks over his shoulder, allegedly to glare at RiRi.
When asked after the game about another moment when he appeared to glance over at Rihanna after sinking a three-pointer, seemingly to taunt her after she heckled him, Durant claimed not to remember it even happening. Teammate Stephen Curry chimed in, "Don't get into that trap, man." Durant replied, "Yeah, I won't get into that. I'm cool. Have fun with that."
ESPN soon jumped to Rihanna's rescue—and justified Durant's confusion—by posting a video of the crowd during the infamous "BRICK!" shout that proved Rihanna's personal assistant, Jennifer Rosales, who was sitting next to the singer, was the actual yeller.
Besides a little friendly finals-induced competition, there doesn't seem to be any ill will between Durant and Rihanna, something Durant is no doubt relieved by, as he's confessed in the past to crushing on the "Work" singer. In 2011, when asked by a fan on Twitter whom he would choose if he could marry any woman in the world, Durant responded, "That girl," and tagged Rihanna. The following year, Durant pleaded with the Twitterverse to send birthday love from RiRi his way—and got his wish. "Happy birthday man! Make it special," she tweeted at him.
Rihanna may not have heckled the Warriors outright, but that doesn't mean she wasn't fully backing the Cavs. In another video, posted on Twitter by the NBA, Rihanna stands on the court, inches away, as the Warriors pass the ball back and forth, and bows to the Cavs' LeBron James, hits the dab, then sits back down.
After the game, Rihanna brushed off the Warriors' win and advised the Cavs to do the same in four simple words: "It doesn't matter, b—," she said, as she breezed by the Cleveland locker room.
Wise words, indeed, and ones that the Cavs will no doubt take to heart as the championship series heats up next week. RiRi knows all.
Rihanna Courtside at a Basketball Game Is Rihanna At Her Best
With Matt Kemp at a Cleveland Caveliers and Los Angeles Clippers game in 2010, keeping it casual in jeans and sneakers.

Getty
Arriving to the Portland Trailblazers vs. New York Knicks game at Madison Square Garden in 2009 in a leather newsboy cap and staggering heels.

Getty
Making friends with Justin Bieber at the 2011 NBA All-Star game at the Staples Center.

Getty
Rihanna attends a game between the Miami Heat and the Los Angeles Clippers in 2012, opting for a camo hat and hooded sweatshirt.

Getty
All dressed up in heels and a crop top for a 2012 game between the New York Knicks and the Los Angeles Lakers.

Getty
Rihanna walks off the court following the NBA game between the Los Angeles Lakers and the Los Angeles Clippers at Staples Center in 2013.

Christian Petersen
Legs for days at the the 2014 Summer Classic Charity Basketball Game at Barclays Center.

Getty
With Cara Delevingne at a game between the Brooklyn Nets and the Atlanta Hawks at the Barclays Center on January 6, 2014.

Getty
Making a new friend—while enjoying some cotton candy, no less—at a basketball game between the Golden State Warriors and the Los Angeles Lakers.

Getty
A sibling outing, seen here with brother Rajad Fenty, in 2013.

Getty
Deep in thought at a game between the Brooklyn Nets and the Miami Heat at Barclays Center in 2014.

Getty
All smiles with a popcorn snack for a 2015 game between the Cleveland Cavaliers and the Los Angeles Lakers.

Getty
Apparently schooling Ethan Hawke in matters of the game at the 64th NBA All-Star Game 2015.

Getty
Rihanna attends the Toronto Raptors vs Brooklyn Nets playoff game at Barclays Center in 2014, keeping it simple in jeans and a white tank.

Getty
Quality time with best friend Melissa Forde, her frequent basketball date, at a 2014 game between the Oklahoma City Thunder and the Los Angeles Clippers.

Getty
Pulling faces at the Toronto Raptors vs Brooklyn Nets playoff game at Barclays Center on April 27, 2014.

Getty
Posing with Los Angeles Police Commission President Steve Soboroff at an NBA playoff game in 2014.

Getty
Sizing up some cheerleader moves at a game between the Oklahoma City Thunder and the Los Angeles Clippers.

Getty
Rocking a crop-top and baseball cap at another playoff game between the Oklahoma City Thunder and the Los Angeles Clippers.

Getty
Putting her diamonds in the sky, replete with a baby pink wig, at a playoff game between the Oklahoma City Thunder and the Los Angeles Clippers.

Getty
Enjoying some cotton candy in an all-white ensemble at a game between the Golden State Warriors and the Los Angeles Lakers.

Getty
Related: That Rihanna and Lupita Nyong'o Twitter Meme Is Becoming an Actual Movie
See What's Trending in W Video: