For Puma x Fenty, Rihanna Presents Gym Gear for Marie Antoinette, Who Didn't Really Go to the Gym
By imploding athleisure, Rihanna proves she's way more meta than we give her credit for.
---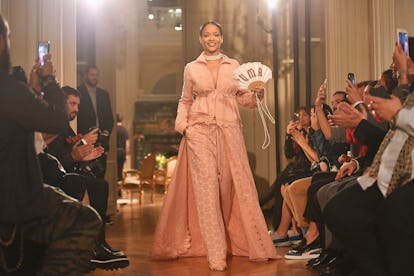 Getty Images for Fenty x Puma
Back in April, Racked published a post about Rihanna's new sock line for Stance, which one unnamed editor described as "Marie Antoinette goes to the gym." Does Rihanna read Racked? Was she just on this same wavelength? Whatever the case, Rihanna has claimed the maligned French queen as her latest inspiration and super-sized it for her Spring 2017 show, the second for Puma x Fenty, which she presented Wednesday in front of an audience that included Parisian favorite, the actress Adele Exarchopoulos, photographer Ellen Von Unwerth, and musician Charlie XCX.
Even without knowing that Rihanna repeated this line backstage before her show to multiple critics, including the New York Times's Vanessa Friedman, the collection appears rife with details pulled straight from Versailles: bustles with oversized bows, corsets, and ethereal nightgowns.
But it wasn't the collection alone that exuded a distinctly 18th-century courtly appeal: Rihanna also elected to move the show from New York, where she presented Fall 2016, to Paris. And while Versailles might not be available for your average fashion show (you have to be Kim Kardashian or Kanye West for that honor, and even further, you have to be getting married), Rihanna found herself a suitable alternative: the Hôtel Salomon de Rothschild, the decadent 8th-arrondissement former residence of an heiress to the Rothschild banking family.
There she opened the show with gauzy minidresses; models tore down the runway wafting fans with Puma emblazoned across the front. Eighteenth-century​ gyms didn't have air conditioning after all. There were hoodies, too, and silk brocade jumpsuits in lavender with mint-green lace-up corsets exposed underneath, and louche slip dresses with billowing, cape-like windbreakers. Gymwear for Marie Antoinette, perhaps, but it's not entirely clear what workout she could do, aside from one that involves being very comfortable.
But that's more to the point. Rihanna is designing for the non-gym-going gym-goer: Sure, there are utilitarian details, but the arc of athleisure bends towards luxury. And it's in quietly imploding the unspoken rules of athleisure (thou shall channel Vetements) that Rihanna proves that she's paying perhaps just a bit more attention than we might previously have given her credit for. It's meta — it nods to Puma with utilitarian fabrics and athletic silhouettes, but it's also unapologetically glamorous. If only every treadmill came equipped with a Rihanna-designed fan, just for comfort.
Though she doesn't design the collections herself, Rihanna has pushed for fabrics and silhouettes that tend more towards formalwear than sportswear since she was named creative director of Puma x Fenty in 2014. As her design director Melissa Battifarano explained in The Fashion Law, she had designed a more purely athletic Fall 2016 collection, but at Rihanna's behest, she sought out Italian fur, velvet, and jersey. The result can be summed up in a single image: marabou-embellished shower slides. None of it is particularly conducive to a conventional workout, but I'm not convinced Marie Antoinette, famed for taking her exercise on the back of a horse, ever went to the gym, anyways.
Rihanna's Spring 2017 show for Puma x Fenty was the presentation of a designer with grandiose ambitions, chafing at the constraints of designing for an athletic label. And who better represents the no-holds-barred luxury to which Rihanna seems to aspire than Marie Antoinette? The singer also channeled the French queen, whose highly visible excesses are credited in part with precipitating the French Revolution in 1789, for her cover shoot with CR Fashion Book, yet her lace-up heels and powder-pink boots for Spring 2017 are more in line with Sofia Coppola's rendering of Versailles (which caused quite a stir back in 2006) than any reality of French court towards the end of the 18th century.
At the end of the show, the queen herself took her bow, positively beaming and outfitted in a blush-pink eyelet lounge ensemble, half-tracksuit, half-ball skirt. Rihanna has said it first: Maybe the thing that comes after athleisure is athluxury.