Rihanna Didn't Let Being Sick on Christmas Stop Her From Looking Festive
Leave it to RiRi to make being sick look so good, even on a holiday.
---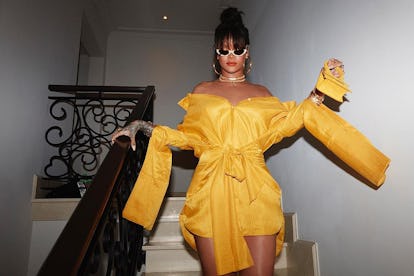 If you spent your Christmas with a stuffy nose, a box of tissues and hefty quantities of cold medicine nearby, you were not alone—Rihanna also spent her Christmas holiday feeling "sick af," and while even the baddest of gals get sick sometimes, of course she didn't let that stop her from looking incredible.
While no photos of her actual Christmas festivities have been posted to Instagram (yet), Rihanna did share a snap of herself in a blood red Christopher Kane dress, slumped in a chair in the corner, looking absolutely incredible for someone who would describe themselves as ill. If I had to guess, I would say that most of us who spent Christmas feeling too fatigued to get out of our chairs did not look as good as Rihanna in that red dress.
On Rihanna's photo capturing her post-holiday exhaustion, the caption read, "when you sick af but yo friend let you wear his dress! thanks @christopherkane I feel better already ?❣️? …..lipstick shade: #MADAMN" leading us to believe that all it takes is a quick swipe of Fenty Beauty on the lips, and a red dress and shoes to match, and all those cold and flu symptoms will just evaporate into thin air.
While her gaze in the photo could be described as despondent at best, close attention must be paid to RiRi's lipstick shade, which matched not only her dress, but her red shoes as well. The lip color is none other than Fenty Beauty's Ma'Damn, a blue-based red shade from Rihanna's Mattemoiselle plush matte collection that is finally on sale as of December 26, along with thirteen other matte shades ranging from "PMS" to "Midnight Wasabi." Leave it to RiRi to make being sick look so good, even on a holiday.
Related: Everything You Need to Know About Fenty Beauty's Mattemoiselle Plush Matte Lipstick Collection