Rihanna's Iconic White Dress From Her Good Girl Gone Bad Album Cover Sold for $13,310
One of RiRi's truly defining garments was auctioned off.
---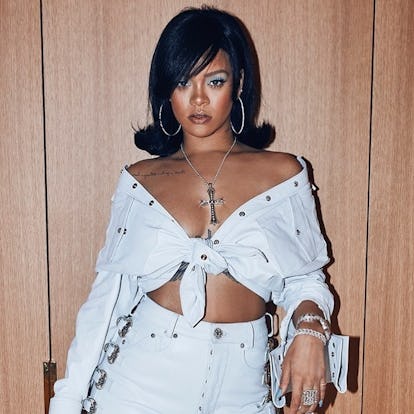 Rihanna may be bringing her style to the masses with her Puma collaborations and her upcoming lingerie line, but that hasn't stopped fans from spending thousands of dollars on her own clothing. Namely, the iconic white Preen dress she wore for the cover of her 2007 breakthrough album, Good Girl Gone Bad. It just sold at an auction on Gotta Have Rock & Roll for $13,310.
To be fair, the dress is more than just a wearable garment. It marks the beginning of Bad Gal RiRi as we now know her. The album cover depicting her in the dress was the beginning of her persona as a fashion icon who couldn't care less about anyone's opinion other than her own. When she was gearing up for the photo shoot, Rihanna made a bold decision to transform her hair into the black bob that became her signature during the aughts. Fiercely, she did so against the advice of those in her inner circle.
Her hairstylist Ursula Stephen told the story about how the bob came to be in an interview with Billboard celebrating the 10th anniversary of the record that contains the hits "Umbrella," "Don't Stop the Music," and "Shut Up and Drive." "We did it a day before [the photo shoot for] her album packaging in a hotel in L.A.," Stephen said. When she was giving Rihanna the haircut, though, she only took off a small amount to appease a Def Jam rep who was there to monitor the transformation. "She was annoying to me, and Rihanna as well, because of her constant hovering," Stephen recalled. The next day, though, when Stephen was alone with Rihanna, she took even more off of Rihanna's freshly dyed jet black hair. "My mother would never let me dye my hair black!" Rihanna said. Then, right before Rihanna was scheduled to do the album cover photo shoot, Stephen took off even more length.
"If she didn't change her look, [the album] wouldn't have been as impactful," Stephen said. "Obviously, the music would have still been good, but her changing the look really made people pay attention to her. Everything worked together because even the music was so different. Everything was different. And [the hair] separated her from a bunch of girls that were kind of coming out at the same time or were already out at the same time." The rest is, as they say, history—and now, quite an expensive piece of history.