Riley Keough Is Not Your Girlfriend, But She Can Pretend Convincingly
The Mad Max: Fury Road star reveals what she had to get over to play an escort in The Girlfriend Experience. "I couldn't wrap my head around how you view sex that way," she says.
---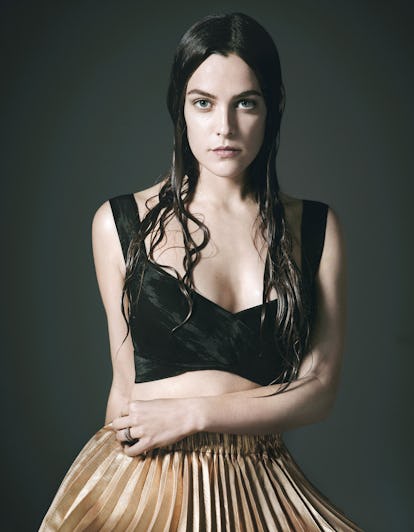 Generally, you get two kind of prostitutes in the movies or on TV: The streetwalker with the heart of gold, who may or may not be saved by a prince charming client (Pretty Woman), or the exploited, often abused woman who finds herself in the world's oldest profession because of dire circumstances or coercion (Taxi Driver). As the protagonist of the Steven Soderbergh-produced TV series The Girlfriend Experience, premiering April 10th on Starz, actress Riley Keough depicts an unseen—and often unknown—facet of the escort business: workers who enter into it willingly and remain there because they actually enjoy their jobs.
Keough, the 26-year old granddaughter of Elvis Presley and one of the sex slave "wives" in Mad Max: Fury Road, stars as Christine Reade, a second-year law student in Chicago whose curiosity is piqued by a friend's job as a GFE, a rarefied escort service that provides clients with ongoing emotional and sexual relationships (Soderbergh made a 2009 film of the same name that featured the porn star Sasha Grey). Upon becoming a GFE, initially to supplement her studies and high profile internship at a law firm, the confident, socially distant Christine finds both pleasure and unexpected complications as she delves deeper and deeper into the escort world.
What made you want to take on the role of Christine? It was a character that you don't really come across very often as a woman: someone who is complicated, complex, kind of unlikable, kind of controlling, kind of selfish, and likes sex and is manipulative. That's something you typically see more for a male character, so that was what really got me interested in this story. And the other things are components, parts of who she is. So I was very excited by her when I read it.
Did you have reservations at all about the level of nudity and sex you would need to portray? No, because before reading it I was aware of what the subject matter was, and it was on Starz and those networks allow lots of crazy sex. So I knew what I was about to read. I was definitely apprehensive about knowing whether or not I would be able to fully understand her because that's not something I can relate to at all.
Meaning? The casual sex, that viewpoint on sex. I can understand being selfish; I can understand being manipulative. I can understand those things, but I couldn't wrap my head around how you view sex that way. And in order to play something, for me, I don't want to play something if I don't understand it one hundred percent in some way. So I was apprehensive about that: Can I really understand who this person is? And can I really get to a place where I can understand how you can feel that way? So that was scary for me. And I didn't want to do it if I couldn't. But I did eventually get there.
You met with some real life GFE's. What insights did you pick up from them that helped you with this role? How many there are. How normal it is and people don't know it's going on. To me it was this crazy, rare thing that I didn't know much about. There were so many of them. It's a lot. Now I look around and I'm like, 'They're everywhere.'
Can you spot them if you go out to a restaurant? One hundred percent.
What are the tells? Not to be mean, but the first thing is there is an age difference. That's the number one thing. And then it's just their behavior, the way they're acting. Obviously, not every young woman with an older man is an escort, but it's where they are, what restaurants they're at, what hotels they're at, what she's wearing. I can just sort of tell just because of all the knowledge I now have on the subject.
You have GFE-dar! Your character's sister refers to Christine as incredibly selfish, and Christine even has concerns she's a sociopath. What is your take on her preference for being alone and avoiding meaningful relationships, platonic or otherwise? It's super interesting to me to play a girl who is not obsessed with her feelings and is in touch with herself. A lot of girls are very emotional and she just doesn't give a shit about her feelings. She's like, "Whatever." She's very pragmatic and doesn't get caught up in a lot of emotions like [many] women. So it was fun.
It sounds quite liberating. It was. The whole thing was quite liberating because you don't normally get to play someone who is that sure of themselves doing these things. She knows who she is and she is young, so it was very fun.
Christine is super smart and on her way to becoming a passionate, successful lawyer. What do you think was the appeal of the GFE life? It was a thrill for her. I think it's control. I think she really is a control freak. She feels superior to most people in general. I think that's what doesn't allow her to get vulnerable or emotional with people, because she just feels like she's smarter than everybody.
Christine is very cognizant of her effect on men. And I feel like all women have that moment when they understand their effect on men. Do you remember what that was like for you, and did that help you with this character? I think a lot of women have the general idea of what kind of control they have over men. Not to simplify men into just being controlled by sex, but women can have this power over men. And for her, she loves that. Power over anybody, really, and I guess she realizes how easily it can be done with men for her. So I think that's a huge component in why she does it, and likes it.
It's interesting that she's someone who doesn't like the messiness of emotions in her own life, but she chooses to be a GFE, which entails listening to and dealing with the emotions of her male clients. Why not just be a prostitute without the GFE part? There are a lot of reasons why. I don't want to say all of them because I like the audience to figure her out for themselves. I think that there's a reason why you don't see her discussing anything vulnerable or personal in her real life, and you do sort of see some of that with these men. But then there are other times when you don't know whether she's lying to them or not. You don't know if she's telling the truth or if she's just saying what she thinks they want to hear. But it is interesting that the only times you see her vulnerable are with clients, really. There's something in that, but like I said I don't want to over intellectualize it. What I liked about the show is we're putting this thing here for people to watch and come up with their own viewpoints.
I know you went into this understanding what was going to be asked of you from a shooting standpoint. But were there ever points where you were like, "I feel uncomfortable doing that," or, "That's not something I want to do"? There were moments where I was like, "That's not what she would do." But that's because I realized people have different ways of doing sexual things. And I had to kind of get over that because Christine is not going to have sex and do things the way I do them. So I was like, "That's a dumb argument." A lot of the time I think actors will say, "My character wouldn't do that," because they can't get to a place where they understand it, which is fine. But I wanted to get to a place where I understood it and I didn't want to just turn her into Riley. Because that's totally different from me. So it was me having to figure her out instead of bringing her to me.
That said, were there any elements of her you could identify with? I think when you're with Christine sometimes you feel alone in a crowded situation. And I can identify with that. And not in a sad way, just in an exterior to the situation kind of way. Feeling different to other people I can understand. And not in the way she does—she thinks she's the best thing in the world. But just feeling on a different wavelength to people, I can understand that a lot.
Did playing this role change your perspective on sex work and GFE's, whatever preconceptions you had prior to this? Yeah. No one really knows the world of sex work where people are doing it because they want to. What you hear is girls who are forced into being sex slaves and prostitution and street workers and things that are very not this story. I wasn't even aware of this world. It just opened my eyes to a completely different world of sex work. There are girls who are doing this, girls we spoke with who did it because they liked it. And a lot of them were retired and still saying, "I don't regret it, I loved my job." It wasn't something they were saying under pressure, they were being very honest with us. So I would just say that my education on different types of sex work has grown.
You got married recently [to Australian stuntman Ben Smith-Peterson]. Was it hard signing on for this so close to getting married? Just because of the schedule of shooting two weeks after we got married.
What a happy honeymoon! We did have a two-week sort of trip that we did. But that was the hardest thing. Do I really want to work right after I get married? But you can't a lot of the time pick the things you shoot, unfortunately. And he's also in the same industry, and if it was him he would be working as well.
But the content of it was never an issue? No, he's very cool. He's, like, very chilled out. He understands film. He works in the industry. He gets how it works and he's very, very cool. I'm lucky with that.
Photos: Riley Keough Is Not Your Girlfriend, But She Can Pretend Convincingly
Riley Keough in 2015. Photography by Mark Segal Styled by Sally Lyndley
Riley Keough in The Girlfriend Experience.
Riley Keough in The Girlfriend Experience.
Riley Keough in the Girlfriend Experience.
Riley Keough in The Girlfriend Experience.
Kate Lyn Sheil and Riley Keough.
Riley Keough in the Girlfriend Experience.
Riley Keough in Dior at The Girlfriend Experience premiere. Photo by Getty Images.
Riley Keough. Photo by Getty Images.
Riley Keough and Bella Heathcote at the launch of the Rodarte and & Other Stories collaboration in Los Angeles, California, March 2016. Photo by BFA.
Riley Keough in Alexander McQueen.
Photo by Getty Images
Riley Keough attends the Chanel and Charles Finch Pre-Oscar Dinner at Madeo Restaurant. Photo by David Buchan/WireImage.
Watch W's most popular videos here: