Rio Olympics, Joanne the Scammer, and the Death of Merch
Fashion, culture, and beauty highlights (and a couple memes for good measure) IRL and online.
---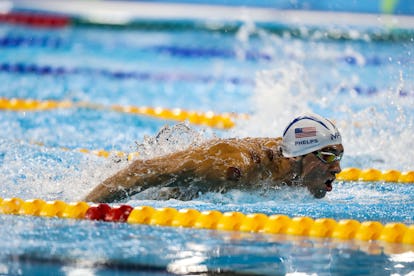 Salih Zeki Fazlioglu/Anadolu Agency/Getty Images
Beecroft, Vanessa Performance artist and Kanye West collaborator who, in a recent interviewed, managed to insult both Beyoncé and the basic concept of race. And that's after she set the internet on fire telling W that she "becomes black" when working with Kanye West. "I am protected by Kanye's talent," she said back in March.
Cupping Not just for Michael Phelps. Massage therapist Amanda Pulcine explains how you, too, can benefit from spots that look like the product of an alien abduction, currently in vogue at the Rio Olympics.
Dior, Christian Along with Vuitton, Louis, returning with full force to the luxury fragrance market. Whatever smells might currently be wafting from the 17th-century parfumerie that is now Vuitton's home base (Dior has its own), it's all very, very secret till the collections are unveiled in September.
East, Fashion Adding one more designer to its Spring 2017 show lineup — recent Central Saint Martins graduate Matty Bovan will show with Richard Malone, AV Robertson, and Mimi Wade, fellow members of the Topshop-sponsored fashion incubator.
Gymnastics, US The team anchored by Simone Biles danced its way to a gold medal at the Rio Olympics last night for the all-around gymnastics event, outpacing competitors by nearly 10 points.
Hiddleston, Tom The 007 hopeful and Thor: Ragnarok star joined Instagram with a costumed selfie captioned, "He's back!" Welcome to Instagram, Tom Hiddleston.
Lynch, David The Twin Peaks director has teamed up with muse Chrysta Bell once again (she'll also appear on the revival of his cult television show) for a new track, "Beat the Beat."
Merch We're calling it. Merch is done.
Scammer, Joanne the Unveiling Branden Miller, the man behind the Joanne the Scammer meme.
Watch W's most popular videos here: