RIP Diana Rigg: The Shakespeare Actress Who Became a Pioneering Action Heroine
No need to tell Cersei, everyone knows she was a legend.
---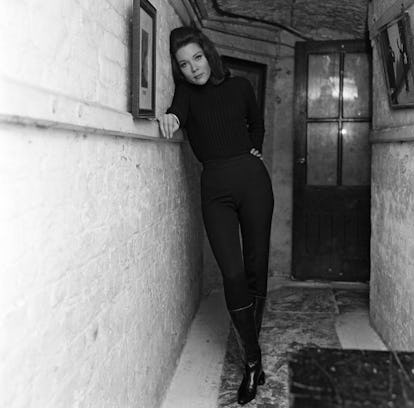 Photo by Doreen Spooner/Mirrorpix/Getty Images
The late Dame Diana Rigg was always a sizzling bundle of contradictions—not least of which being the fact that she was a serious Tony-winning stage actress and a veteran of the famed Royal Shakespeare Company, yet her most popular roles came from the blockbuster genre of entertainment. In the 1960s, she broke though on the British television program The Avengers as Emma Peel, a truly groundbreaking action heroine who managed to best bad guys, run a successful business, and pursue both artistic and scientific hobbies—all while wearing a rather iconic PVC catsuit. Female characters as tough and as competent as Peel had hardly been seen on screens—big or small—before that. The character became a sensation in England, and laid the blueprint for so many heroines that followed.
In 1969, she appeared as the main Bond girl in On Her Majesty's Secret Service. To date, her character was the only one who actually managed to get Bond to marry her for romance. In more recent years, Rigg affirmed her talents among a younger generation as Game of Thrones' acid-tongued noble woman Olenna Tyrell. Even amid the show's famously sprawling cast, Rigg managed to steal just about every scene she appeared in and had one of the show's most memorable (and meme-able) exits. Though George R.R. Martin had written the character as a minor background player, Rigg's portrayal helped elevate the role into one of the show's most fascinating characters.
Rigg took an early stand against pay inequality by holding out from production on her second season of The Avengers until she got a significant salary bump and better treatment on set. She learned she was paid less than even the cameraman. She was painted as a villain for it in English media and found little support, but eventually she received a notable raise. Rigg was also known for her criticisms of what she saw as the excesses of formal feminism, perhaps after having been burnt by her own experience. In her later life, Rigg clarified, however, that she never intended to appear anti-feminist.
Maybe the confusion came because Rigg couldn't help but pepper her own speech with wit and an occasional barb here and there. She had a memorable sense of humor, and in the 1980s, called upon her acting colleagues to contribute to a book compiling the worst reviews they had received in their careers.
Despite her status as a genre star, Rigg's theater bonafides can't be overlooked. She was nominated for a Tony four times, winning once. Throughout her careers, she appeared as iconic characters like Lady MacBeth, Eliza Doolittle, Medea, and Martha from Who's Afraid of Virginia Woolf.
According to her representatives, Rigg passed away peacefully at home at the age of 82 after a short battle with cancer.
Though, Rigg kept on working until the end. She'll appear in Edgar Wright's film Last Night in Soho and the BBC and FX miniseries Black Narcissus.
Colleagues, admirers, and fans paid tribute to the actress on social media.