Riverdale Season 2 Episode 3 Takes Inspiration From Brokeback Mountain
And other references you may have missed.
---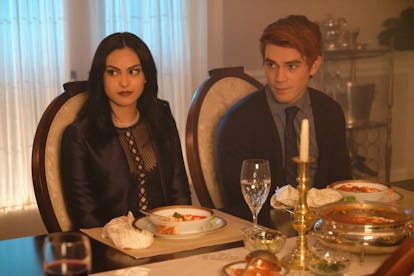 Bettina Strauss /The CW — © 2017 The CW Network. All Rights Reserved
If we've learned anything from the second season of Riverdale, of which the third installment arrived tonight, it's that there are always references waiting to be unearthed. Last week, it was Jingle Jangle, the hottest drug in Archie's hometown, which is more than just a silly phrase: the name actually comes form a catchy song from the virtual band the Archies released in 1969. Plus, the ending of the second episode of the second season contained an overt homage to David Fincher's 2007 film Zodiac, based on a serial killer of the same name, as Midge and Moose were creeped up on in their car by "The Black Hood" while Donovan's "Season of the Witch" played. This week, the third episode of the second season contains yet another tribute to film.
"Chapter Sixteen: The Watcher in the Woods" pays tribute to Brokeback Mountain. The reference comes in a scene where Kevin, the sheriff's son and Riverdale's only main character who's gay — at least at the moment — possibly encounters the Black Hood. Someone, who's face is masked, tries to lure Kevin into his car. Kevin gets in and the mystery man stabs him in the stomach before we find out that, just kidding, that's just a scene that plays out in Kevin's mind (like the ones Fred Andrews had in the second season debut, including Archie and Veronica's wedding). As it turns out though, that moment was influenced by a similar hallucination Heath Ledger's character had of his love interest played by Jake Gyllenhaal. "That horrible scene where Heath Ledger is calling in the phone booth and he sees flashes of Jake Gyllenhaal's death — that was what inspired that," Riverdale creator Roberto Aguirre-Sacasa told Entertainment Weekly. "We wanted it really to get underneath everyone's fear and paranoia." Mission accomplished.
Outside of the Brokeback Mountain-indebted scene, this week's Riverdale also contained a new reference to its original source material. It happens to be the name Archie chooses for his neighborhood watch group. "We were trying to come up with different names for Archie's vigilante group," Aguirre-Sacasa told EW. "In the past, Archie Comics published a line of superhero comics that were under the imprint the Red Circle, which more recently has been the Dark Circle. But we wanted to go more old-school, so that's where we got the name the Red Circle."