Riverdale Season Two Premiere: So Who Shot Fred Andrews?
"Omg, is this the apocalypse?"
---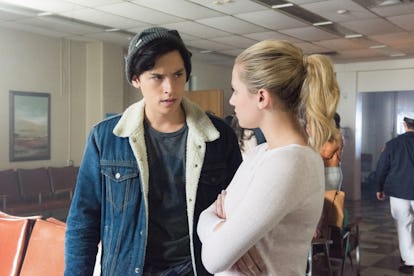 Dean Buscher/The CW — é 2017 The CW Network. All Rights Reserved
One full season into Riverdale, it's fully apparent more than ever that the CW show based on Archie Comics isn't just for teens. As it tackles heavy subjects from gun violence to sexual assault, slut-shaming, drugs, and incest—to name a few—the show is as much a character study about a group of friends as it is a visual of a city being awakened by random acts of violence and forced to confront the darkness that lays beneath—a picture that's all too familiar outside of the world of Riverdale.
As Betty Cooper said in the finale of the first season, "Pretending to be normal and perfect when we're like a greek suburban tragedy" is at the heart of Riverdale. In the premiere of the second season, though, everyone has almost given up on pretending.
Death—or attempted death in the case of Archie's dad Fred Andrews, who we find out survived being shot in Pop's Chock'lit Shop thanks to a driver's license-less Archie careening his father to the hospital—has a way of dredging up peoples' true feelings and intentions, we learn. In the wake of Fred's shooting, Veronica is forced to play the role of the comforting girlfriend, something she admits she doesn't do as well as "makeovers, party planning, and dance-offs."
"Old Veronica would have bolted by now but new Veronica doesn't want to let Archie down," she tells Betty at the hospital as they're awaiting a status update on Fred alongside Archie and Jughead. Instead, she attempts to his spirits up, quite literally, as she jumps in the shower with Archie, which is one of the few comic relief moments of the episode. It's easy to forget in that steamy moment the absurdity of the situation that, one, Veronica's definition of consolation is shower sex and, two, that she keeps on her signature pearl necklace in the blood-stained shower—perhaps, a symbolic reminder of how Riverdale's suburban utopia has been shattered.
On a more micro level, Bughead fans will be disappointed that Archie and Veronica got yet another risqué scene when Betty and Jughead still haven't been able to finish what they started in the season one premiere, as they were interrupted by the Serpents coming to see their new "family" member Jughead, in the wake of his dad protecting the names of the people (possibly Serpents) who sold heroine for the now-deceased Clifford Blossom. (A refresher: season one ended with Clifford hanging himself in the Thornhill barn as it became clear that he murdered his own son Jason, once Jason discovered the family business wasn't just bottling maple syrup.)
Archie and Veronica's shower scene cuts to Betty telling Kevin Keller, the sheriff's son, that she and Jughead haven't yet had sex, though they did exchange "I Love Yous." (Betty also tells her mom something similar, which is a shift from the squeaky-clean Betty we met at the start of the first season.) Betty, who later shares a kiss with Jughead in the episode, though nothing more, is then interrupted by Cheryl Blossom, who emerges in the hospital alongside her full-cast-covered mother, who has been rescued from the "purifying" fire Cheryl started at Thornhill estate after discovering her father murdered Jason before killing himself. Though, Cheryl has told everyone a different story about how the fire started and how her mother got injured. She also threatened her mother about telling the truth, clenching and cutting off the flow of her mom's oxygen mask: "If you breathe it's because I give you air… Things are going to be different now, mommy. Better. You'll see."
"Omg, is this the apocalypse?," Kevin asks Betty, wondering for all of the viewers.
But who shot Fred Andrews? Betty's mom and the sheriff hint that a Serpent might be involved but Jughead, who is clearly the town's best detective—and most reliable narrator—has another theory. "People have grudges. People have enemies. Think of where we live. Fathers are killing their sons. It's entirely conceivable that this was a hit," he tells Veronica and Betty, of the motive behind the green-eyed shooter.
As we know, at least two people have a grudge against Fred: Hermione and Hiram Lodge, the former of whom tried to squeeze Andrews out of their company in the season one finale and the latter of whom may have caught wind that the former high school sweethearts had momentarily rekindled their romance. Veronica suspects the same as she later corners her mother while Hermione is in a church, asking, "What are we praying for? Fred's recovery or a speedy death?," before delivering one of the best lines of the episode."I don't think you're an innocent pawn, mom," she says. "I think you're Daddy's eyes and ears on the ground, calling the shots…. If the Manolo Blahnik fits."
Jughead's theory that the gunman wasn't actually a robber as he posed to be, and as the sheriff suspects, is strengthened by the revelation that the green-eyed man didn't even take one Penny from Pop's, which Bughead learns after returning to the soda shop to find Fred's missing wallet. "He wasn't a thief," Pop says. "I've looked plenty of thugs in the eye. This man—his goal was something else, darker. It's like the Angel of Death has come to Riverdale." Indeed, the Angel of Death takes yet another victim before the end of the episode, though in Greendale, the town on the other side of Sweetwater River: Ms. Grundy, the music teacher Archie had an affair with who apparently continued to prey upon underage men, as shortly before her murder she is seen kissing yet another one of her students. There is so much going on in Riverdale, though, that at this point, statutory rape is a minor—at best—plot line.
In fact, Betty's fear over Jughead's future gets more consideration than Ms. Grundy in the season two premiere. Back to the idea of no longer pretending: Jughead is now nearly fully embracing his Serpent roots—even without wearing the gift bestowed upon him after his dad refused to snitch. "With or without the jacket you're still a serpent," Jughead is told. He is basically living in his Serpent father F.P.'s shadow at this point, riding his motorcycle—much to Betty's disapproval—and living in his trailer as his father awaits his sentencing.
While Jughead tells Betty he's doing those things not to become a Serpent but rather to hang onto what little he has of his dad, he later becomes more involved with the gang as they perform a service upon his request. After speaking to the sheriff, Jughead meets the Serpents to see if they know who shot Fred Andrews or can find out. His wish is granted, though not successfully, as he comes home to find a man bloodied up and tied to a chair in his trailer who the Serpents had questioned. Jughead, the moral compass of the show, asks the obvious question: Why would they keep an innocent man? The Serpents explain that they wanted him to see they're working on it.
For as dark as the second season premiere is, there was one bubbly moment: When Veronica waltzed into her dining room with a mimosa consisting of a celebratory bottle of Cristal for her father's return. "There was a bottle in the fridge begging to be popped," she tells Hermione. Her father is less understanding. Like Jughead, Veronica comes home to find an unwanted man in her house: Hiram, played by Mark Consuelos, who emerges from the shadows at the dinner table for the first time and shames Veronica for not being there to greet him upon his arrival and drinking his champagne. "I've changed. You have no idea," she tells him. "The question is: have you?" "Not so much that I still don't want a kiss from my daughter," he says. She obliges and then tells them Fred has awakened after being shot, and her parents exchange knowing glances.
As for what wakes up Fred, it's a scene that has had Riverdale fans pining to figure it out since it was first teased: in a dream, Archie and Veronica are getting married. You can tell that it's a dream because there is no way Veronica would ever let Jughead wear his beanie for to her nuptials. If that wasn't a giveaway, it also ends with the gunman walking down the aisle to shoot Archie, who is this time saved by his father jumping in front of him. But, even with Fred awake, Archie's world is far from back to normal. The gunman is still at loose. Archie has suited up with a baseball bat to protect his father, who is now back at home. (Isn't that the police's job?) Veronica is grappling with the knowledge that her parents might be responsible for her boyfriend's father's gun wound. Jughead is still without a family or a path back to Riverdale high school. Cheryl Blossom, whose life Archie saved at the end of the first season, is threatening her mother she nearly burned alive. Riverdale, too, is metaphorically engulfed in flames. As Jughead said when Fred was shot, the last bit of innocence in Riverdale has died.
The Ultimate Guide to the Best Fall Coats to Buy Now
Riverdale's Lili Reinhart talks boy bands, Lizzie McGuire, and other obsessions: