Riverdale Season 3 Teaser Trailer is Surreal
Everything to know about the next season.
---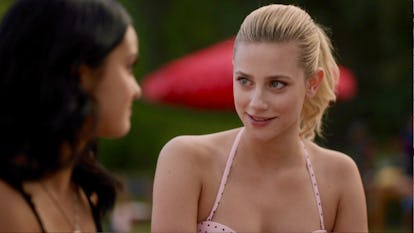 CW
For the uninitiated, Riverdale might seem like an escapist show about teenagers having good, clean fun as they did in the Archie comics series. In reality, it's one of the darker programs on TV, where death is a constant and trips to Pop Tate's shop are merely a distraction from all of the corruption and chaos in the fictional town. But, looking at new images and a teaser trailer from season three, you wouldn't be able to tell any of that.
The cast couldn't look less stressed in the two photos that Riverdale creator Roberto Aguirre Sacasa has shared. "'A' is for Archie Andrews, already in training for fall football season. Only 47 days until #Riverdale returns…," he tweeted along with a photo of the shirtless star clutching a football. It's a far leap from where season two left off, with — don't read on if you're not caught up — Archie being wrongfully arrested of murder when, in fact, it was Veronica's dad Hiram Lodge's thugs' doing.
But how are Veronica and Betty doing? In the photo Sacasa shared of the two leads, they look like they're catching some rays and trading stories about their summers. By their smiles, all of the drama seems to have calmed down. "B is for Betty. Brilliant, beautiful, bold, brave, and beguiling. Only 43 more days til Season 3 of #Riverdale premieres," Sacasa wrote in the caption.
While Betty might be at ease, Veronica and Archie are definitely not, as Camila Mendes recently revealed. "[There's] some Varchie conflict," she recently told E! News. "There's Varchie conflict that will make them go crazy. And a possible new love interest." Still, in the first promo clip for the show, shared on Twitter, Veronica is by Archie's side after he's taken to jail.
As for other spoilers about season three, Stranger Things breakout star Shannon Purser, who played lovable Barb and plays Ethel on Riverdale, told Teen Vogue that she will be playing a bigger role in season three. "She's a human being and she's having a really rough time with her family," she said. "It's been really interesting to show the results of all of that inner turmoil and her kind of snapping… I think Ethel is really just trying to prove herself as a person… I think she really wants people to know that she has something to say and that she is not just some awkward throwaway character, but that she has value. I think her big thing is right now that she feels so isolated and nobody is listening to her. That's kind of why she sort of takes the power back." Countdown until October 10 when we get to see that play out.