Riz Ahmed's Coffee Shop Meet-Cute Led to a Quarantine Wedding
The story of how Riz Ahmed met his wife Fatima Farheen Mirza sounds like something out of a rom-com.
---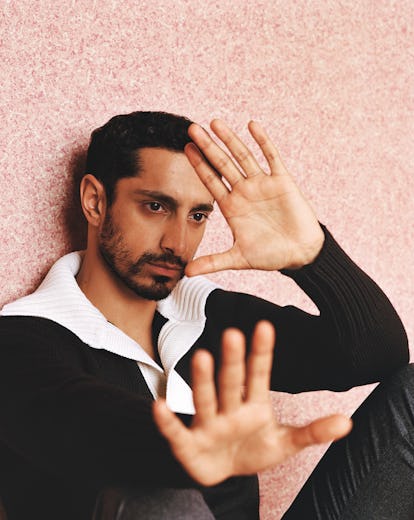 Photographs by Alasdair McLellan, Styled by Edward Enninful; Hair by Shay Ashual at Art Partner; makeup by Diane Kendal for Marc Jacobs Beauty at Julian Watson Agency; manicures by Casey Herman for Dior at the Wall Group. Set design by Stefan Beckman at Exposure NY.
Imagine sitting down at a New York café, pre-coronavirus of course, laptop in hand, and you look up and spot critically acclaimed actor Riz Ahmed. You start chatting, strike up a friendship, and then, a few years later, you're married. It might sound like a rom-com fantasy or something out of The New York Times "Modern Love" column, but this is actually what happened between Ahmed and author Fatima Farheen Mirza.
Appearing on The Tonight Show with Jimmy Fallon, Ahmed explained how he met Mirza, the novelist who wrote A Place For Us the first book under Sarah Jessica Parker's imprint. Their meet-cute happened a few years back, when Ahmed was in New York preparing for his role as a musician who loses his hearing in Sound of Metal. "We just both sat down at the same table in a cafe where we both turned up to write," he said, explaining that they "were both jostling over the same laptop plug point." They became friends and then reconnected down the line. And then, a few years later, the pair got married.
The ceremony itself was one of the socially distant variety, and "super intimate" according to the actor. "I think the nicest thing about it was you didn't have 500 aunties hanging around you, pinching your cheeks," the actor said. "No disrespect to the aunties," he joked.
As far as keeping the relationship quiet goes, there was no ulterior motive there. "I guess because we live in a social media age, if you don't get on the megaphone about stuff, it's like it's a secret," Ahmed said, explaining to Fallon that he never intended to keep his marriage quiet, he just didn't necessarily want to blab about it on Instagram. "I never know how much is oversharing," he continued.
Let this be a lesson for everyone who goes to coffee shops to "get some writing done" but is also low-key just keeping their eyes open for any possible whiff of romance. You never know when you might actually have a meet cute with someone, so you might as well shoot your shot.
Related: With "The Long Lockdown," Riz Ahmed Gives Fans an Opportunity to Connect