My Week on the RMS Queen Mary 2: Living Out a Fantasy at Sea
In our era of instant everything, there is something to be said for taking the long way home. Stephen Heyman makes the Atlantic crossing on the newly revamped Queen Mary 2.
---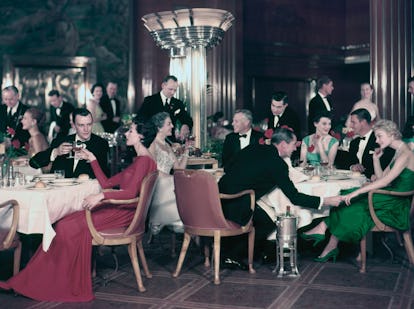 Courtesy of Cunard
I am drinking a martini in a cocktail lounge on the bow of the world's last ocean liner, admiring the courage of the man across from me who wears his black tie with a Scottish kilt. "Good evening," he says, and for some reason I bow slightly in reply. It's almost dinnertime. Balkan waiters in Nehru jackets buzz around us delivering potato crisps, Rob Roys, canapés. It's the roughest day at sea so far, but considering that this boat is bigger and heavier than a Nimitz-class aircraft carrier, the pitching actually feels pleasant, like being rocked in a massive cradle.
My wife, Yana, and I have taken a week to cross the Atlantic Ocean, traveling from Southampton, England, to Red Hook, Brooklyn, on the R.M.S. Queen Mary 2. It's an old-school voyage—analog, unhurried. For this week, my smartphone has been reduced to a camera; my world to these 14 decks; my body to a repository for beef Wellington, lobster thermidor, crêpes suzette, black pudding, 20 types of consommé, caviar, champagne, scones, clotted cream, Dramamine, and the whitest variety of melon I've ever seen.
As I expand, I feel more expansive. Unlike on dry land, I want to make friends, to get to know my fellow passengers, called Cunarders in the ship's lingo. We are sitting in blocky white armchairs, ignoring the blue glow from the LED accent lights, peering out the windows as the sun sets over the bow and the ocean takes on a ghostly pallor. At the baby grand, a Hungarian pianist keeps time with the swells, his bushy eyebrows moving to the maudlin music. I take another sip, and try to plug in to this atmosphere of slightly embalmed glamour. I feel that I am living out not my own fantasy, exactly, but someone else's, maybe that of the adorable woman to my left in a flapper dress with fuchsia feathers in her hair and a Chanel headband.
The dress code for tonight, our fifth night at sea, is formal: men in tuxedos, women in evening gowns. It is also the night of the Roaring '20s Ball, and while my Scottish friend has decided to wear his national dress—the kilt is, after all, timeless—others are taking their very best stabs at Al Capone and Josephine Baker. After dinner, I will find these same naughty Britons in the ship's ballroom, dancing the Mayfair Quickstep to a song introduced only as "the Irish music."
We spent today mostly indoors. The springtime of our voyage is over. Long gone are Days One and Two, when we ruled the shuffleboard courts on Deck 12 and could comfortably strut from our stateroom to the aft Jacuzzi in our bathrobes. Now that we're deep into our Great Circle course through the North Atlantic, it's too cold and windy to brave the outdoors for more than a few minutes. So we find simple ways to kill time. We sit in the sauna: heaven. We read for hours, drinking Earl Grey to keep from dozing off, before dozing off. We buy postcards and stamps in the ship's library and drop them in the Royal Mail's red letter box next to the pub.
We know, in some ways, that this is all make believe, that the Queen Mary 2 is a floating anachronism, a chance to sink into an atmosphere of assiduously engineered obsolescence. It is not a cruise ship, as the captain will remind you, and you are not on a cruise but on a "crossing"—retracing the storied path of glorious ocean liners of yesteryear, none more famous than the R.M.S. Titanic, whose specter hangs about these decks like the smell of sea-foam and hand sanitizer.
The Ship of Dreams comes up explicitly one day, over lunch, as I am eating prawn salad underneath the Britannia Restaurant's Art Deco canopy. The ship's first officer announces on the PA that we are passing within a few dozen knots of the Titanic's "final resting place," off the coast of Newfoundland. A current of PG-13 terror courses through the dining room. Later, we will hear the German political scientist and maritime historian Ivo Mechtel deliver an impassioned lecture in the planetarium, where he dispels all the lies and legends misattributed to the Titanic. "It's all nonsense! She was a great ship. And no matter what you've been told, or what the James Cameron movie says, she had more than the number of lifeboats required by law," Mechtel says.
I wouldn't dwell on the Titanic if the Queen Mary 2 did not, in a roundabout way, owe its very existence to that ship and its sinking. It was ­Cameron's 1997 film that directly inspired Micky Arison, the chairman of the board of Carnival Corporation, to resurrect the ocean liner as a mode of conveyance. "The success of the movie struck me at the time as a feeling of nostalgia, a desire to go back to the past, a desire for a simpler life and a simpler world," he said recently. The film's catastrophic ending did not dissuade Arison, nor did the fact that air travel had effectively made the transatlantic liner an extinct species. By the mid-1960s, Cunard's Queen Mary and Queen Elizabeth prowled the North Atlantic as ghost ships. On one crossing of the Queen Elizabeth, Mechtel told us, a crew of 1,000 waited on only around a dozen passengers.
Carnival bought Cunard in 1998 and invested almost $1 billion into building the QM2. A transatlantic ocean liner is a different beast from those hideous floating condominiums known as cruise ships: The bow is finer, the steel work and superstructure are stronger, the fantail is stepped, and there is a big wraparound deck for jogging or lounging on wooden deck chairs. Despite holding 2,961 passengers and a crew of 1,178, the ship feels massive—it's three times the size of the Titanic—and there's plenty of room to get lost.
The QM2 sold out its first voyage 18 months before it launched, in 2004, and has remained extremely popular ever since, a bucket list item for history buffs and bygone-glamour junkies. The ship recently emerged from a $132 million revamp, which among other things doubled the size of the onboard kennels. As it happens, the QM2 is very popular with pet owners, who, for about $1,000 a pooch (or kitty), can comfortably transport their animals across the Atlantic without having to squeeze them into cargo. The kennel has an owner's lounge, play areas, even a New York City fire hydrant and a British lamppost, so that the dogs can feel at home no matter which side of the Atlantic they hail from.
On the first night of the voyage, in the ship's cigar lounge, I meet an American insurance executive with two small dogs who is returning home after a long expatriation in London. "It's much easier on the dogs," he tells me. "They have one of the best views on deck. You can go up and play with them three or four times a day. It spoils them, though, because for a week they're pooping on teak."
Most Cunarders are a social bunch, only too happy to strike up a conversation, but the cigar lounge on Deck 9 assembles the ship's true raconteurs, its most entertaining drunks. The same group gathers here almost every night. "The trick to get the cigar smell out of your tux is to hang it outside your stateroom each night," one man tells me. "Now, if only I could do that with my mustache."
We're belly laughing and drinking Scotch. A group from the National Review magazine—which is having an event on board—is about to start talking politics when an older man in a dark suit stumbles in to save us. He looks exactly like Mr. Magoo, radiating the same befuddled magnificence. "I'd love a Drambuie and ice," he announces, although there's no waiter in the room. One of us hails a waiter, the order is taken, a box of cigars proffered.
Magoo rests into his armchair and has his cigar lighted for him. "When do we get to New York?" he asks the room. The answer seems to surprise him. "My God! Seven more days!" "They count by nights, seven nights." "Jesus." "But you pick up an hour every night." "Backward or forward?" Magoo asks. "You gain time." "When do we do that?" "Before you go to bed." "Well, it's only 10:30." The hour seems to reassure Magoo, who studies his Drambuie and then says, almost to himself, "The big difference between this and a business class ticket is the bar tab."
While Cunard's crowd skews older, the line is always trying to diversify its passenger list, and to do that it's been building its voyages around different themes. Our theme is fashion. The ship will arrive in New York just as New York Fashion Week begins.
There are two runway shows on board: one by fashion students from Parsons, the other by Julien Macdonald, who served a brief stint as the creative director for Givenchy in the early aughts. His show—a cavalcade of glittery red-carpet dresses—lasts nearly an hour, breaks into an impromptu dance party at several junctures, and features a racy underwear interlude in which half a dozen male models, their torsos greased, appear in sequined loincloths, to the audible delight of the ship's older female passengers.
A clutch of London-based fashion models are on board to walk in these shows, and they cut quite the swath at the breakfast buffet. "Youth and beauty, meet decrepitude," Yana whispers to me, as one stunning model with a giant afro glides past the kippers and herring.
The fashion is, all in all, quite diverting, but the main attraction on any westbound Queen Mary 2 crossing will always be the dramatic arrival in New York Harbor. You have to get up early—4:45 a.m.—if you want to see the ship's elegant funnels pass narrowly underneath the Verrazano Bridge.
Some passengers are wearing robes, others still have their suits on—they've stayed up all night. The decks are full, clouds of fog appear here and there, but we have a clear view of the Statue of Liberty, which is lit up in the dark sky. Slowly, everyone gathers on the ship's bow. No one speaks. We realize, quite suddenly, that while we may not be tired and poor, we have become a huddled mass, very much yearning to be free, or at least to get off the ship.
The mood is almost solemn, everyone holds their phones and selfie sticks aloft to try to capture this scene as we approach the terminal in Red Hook. I find it genuinely moving, but I'm also feeling drowsy on account of the early hour and the seventh straight night of overindulgence. I lean my head on Yana's shoulder. I'm about to softly whisper something to her when I realize that it's not Yana's shoulder I'm leaning on but that of an exceedingly understanding German tourist. "I'm so sorry," I tell her, trying to explain my mix-up. "I think I'm just tired, and happy to be home."
Photos: What Happens When a Billionaire Joins Instagram
Watch: How Celebrities Pop Bottles of Champagne
Popping Bottles