Thom Browne Alum Robert Childs Strikes Out
For his Fall 2016 debut, Childs delivers well-tailored basics for real men.
---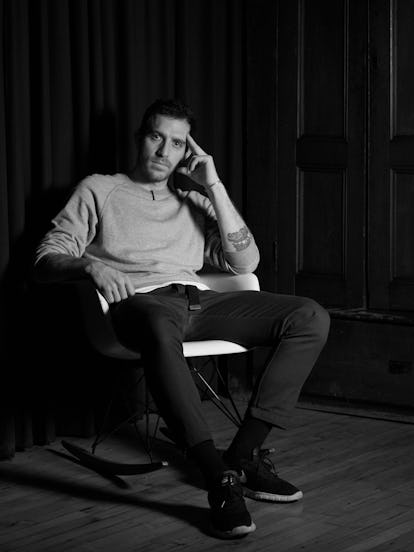 For its Fall 2016 debut, the menswear label Childs — the namesake brand of Robert Childs — delivered an edited selection of basics, made with practical fabrics for everyday wear. But a Gap t-shirt, this is not. With fine-tune tailoring honed from his past training at Thom Browne, the Childs' collection begins with staples of crewneck sweatshirts and ends with a double-face bonded wool herringbone swing coat. Here, he talks detailed tailoring, collaborating with artists, and designing for real men.
What was your initial concept behind Childs, and when did you decide to launch your own label? I think that since I first decided I wanted to pursue a career in fashion, the goal would be to one day have my own collection. I've gained a lot of great experience and been able to work with some really strong designers in New York, and all of that exposure has lead me to a place where I'm now able to communicate my own voice through my collection. I really believe that creating clothing deserves a certain amount of care and respect, and I want to treat it in that way, with consideration and sophistication. I also feel that there's a place in the market for a well-made mens collection that has an understated masculinity, which I think might be missing right now.
Tailoring and construction seem to be the most important attributes of the brand, is this rooted in your previous training at Thom Browne? Working at Thom Browne definitely helped me to hone my skills and I acquired so much knowledge there, the same applies to working with Adam Kimmel and the other jobs I've had since graduating FIT. Tailoring and construction are at the core of the brand, and they need to be because the overall tone and aesthetic is quite subtle, so when you look closely at the details, they need to be there and they need to be well-executed to achieve what I want with the collection. This is also important in the manufacturing, so aligning with the best possible craftsmen and suppliers is vital for the collection.
Who are the men in the look book? It's refreshing to see some real men in the clothes! All of the guys in the look book are friends of mine, and only one actually models. The clothes are designed with real guys in mind – actual people who are going to wear them – so it's important that these clothes can easily become part of their lives. My friends are really important to me, and I'm excited that they want pieces from the collection already. It is a designer collection, but made with the intent that it should be something you want to wear everyday and for guys who appreciate fine details, tailoring and quality fabrics.
You collaborated with New York artist Julie Houts for a few of the pieces. What was that experience like, and do you foresee more collaborations in the brand's future? Julie was great to work with. We chatted briefly about the collection and I showed her a couple of old Andy Warhol drawings that I liked, and she took it from there. I definitely have plans to work with more artists and creatives moving forward, it's exciting to work with people who might think differently and have another perspective. My ego's not big enough to think that I can do this all myself; so to be able to bounce ideas around and collaborate with people I respect is a really enjoyable and rewarding part of the process for me.
What's next for Childs? Moving forward I plan to evolve and grow the collection with a little bit more experimentation. For the first season, I really wanted to set the foundation. A lot of the items in the FW16 collection will remain in the offering and become standard pieces that people can come back for each season. I would like to add more silhouettes, push the materials in outerwear and knitwear and work on other collaboration projects. Everything should have a common thread and work together though – when I talk about experimenting, it's still within the stripped down refined utilitarian aesthetic that I believe in.
Photos: Thom Browne Alum Robert Childs Strikes Out
CHILDS Look 1, photographed by Rob Northway, styled by Ian Bradley.
CHILDS Look 4, photographed by Rob Northway, styled by Ian Bradley.
CHILDS Look 5, photographed by Rob Northway, styled by Ian Bradley.
CHILDS Look 7, photographed by Rob Northway, styled by Ian Bradley.
CHILDS Look 10, photographed by Rob Northway, styled by Ian Bradley.
CHILDS Look 15, photographed by Rob Northway, styled by Ian Bradley.
CHILDS Look 18, photographed by Rob Northway, styled by Ian Bradley.