Robert Geller Is Bringing His Scene-Stealing "Immigrant" T-Shirt to the Masses
Robert Geller never anticipated his DIY "Immigrant" shirt would set off such a stir at his Fall 2017 show—but when it did, he decided to use the momentum to benefit the ACLU.
---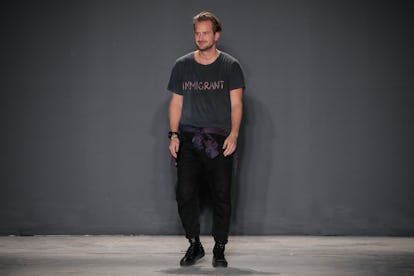 JP Yim
With 20 minutes to go before showtime, the DIY t-shirt Robert Geller wore to his Fall 2017 show was almost an after thought. The previous night, Geller had asked his wife, the designer Ana Beatriz Lerario, to paint "Immigrant" in block capitals across one of his old t-shirts, a worn-in grey number.
Though Geller described himself then as quite apolitical, president Donald J. Trump had just instituted the executive order barring immigration from seven predominantly Muslim countries at the outset of New York Fashion Week: Men's, and the designer saw an opportunity to make a statement on his runway. His collection, too, was something of a reflection of the times, employing utilitarian protest gear and inspired in part by last summer's terrorist attacks, particularly those in Germany's Bavaria region, where Geller, an immigrant himself, still has family.
The night before Geller's show, Lerario drew lettering across the shirt in green paint; the next morning, minutes before showtime, she decided it wasn't bright enough, and did it over, this time in pink. The paint had hardly dried when Geller stepped out to take his bow, and set off an unexpected volume of requests. By early evening, Geller was already circling around the idea of reproducing the t-shirt for a wider audience, capitalizing on the momentum.
"I've never had so many requests for a t-shirt before in my life," he told me at the time. Within two days, the plan was set in motion.
The resulting t-shirt, a customized Alternative Apparel top that retails for $50, made its debut today on luxury menswear e-tailer Grailed. Geller partnered with the Brooklyn screen-printing studio Raygun Printing, with whom he's collaborated on previous collections, to recreate the homespun feel of the original, complete with its layered green-and-pink paint. And what started as an afterthought isn't just a nice token: The entirety of profits from t-shirt sales will benefit the American Civil Liberties Union; Grailed also announced earlier in the week it would match the donation.
"I've been really careful to at no point make it seem like I'm using this as a way for me to up my profile or to make money off of it or any of that. I want to use my status to be able to help," Geller said on a recent morning in New York, "which I think anybody can do in their way."
Around the time Trump signed the travel ban, the ACLU spearheaded efforts "to fight against what was happening and to help people that were lost and didn't know what their rights were," Geller said, making the organization an obvious choice for the designer to direct the proceeds from his project. (It was the ACLU that filed the original lawsuit against the immigration ban when it was signed into existence in January, a filing that prompted a New York judge to halt deportations that were already underway.)
Geller's t-shirt echoes collections like Opening Ceremony's "Action" capsule—a set of hoodies, t-shirts, and tank tops featuring bold words like "Shout," "Change," "Defy," and "Unite" emblazoned across the front—whose proceeds also benefited the ACLU.
The organization has become a cause célèbre in the weeks since the Trump inauguration; during the weekend after the immigration ban alone, it raked in $24 million in online donations—six times its annual average.
And while "fashion can at times seem maybe not super important," Geller told me in January, if this season has proven one thing, it's that many in the industry are now unafraid to take an overt political stance.
Incidentally, Geller still has his original shirt. He wears it to yoga.
International Women's Day: 10 Charitable, Feminist Pieces to Shop Now
62 fashion insiders take a stand for International Women's Day: