Robert Pattinson Is "Really Obsessive" About Eye Masks
The actor discusses his process getting into character, the last thing he does at night before bed, and more.
---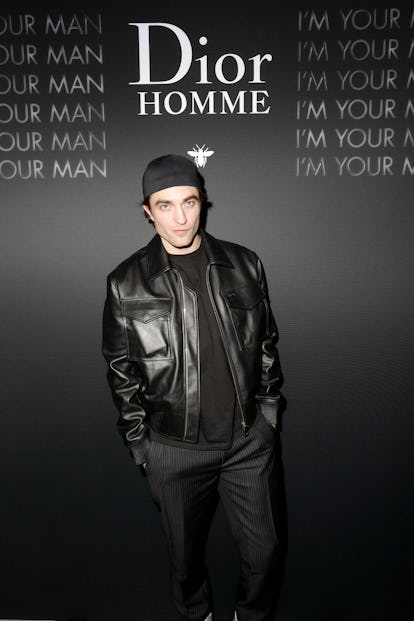 Courtesy of BFA
On the morning of the fall 2020 Dior Homme show and dinner he would later host alongside the label's menswear designer Kim Jones, Robert Pattinson is feeling a little sleepy. "I took two melatonin," he says, from inside the walls of Le Bristol in Paris. "I just can't wake up!"
In some ways, it's not surprising. The actor is busy preparing for a big night, and an even bigger year. At the aforementioned party at Caviar Kaspia, Pattinson debuted a commercial for the brand's new Dior Homme Eau de Toilette fragrance (out this month) to an audience including Kate Moss, Bella Hadid, Diplo, Courtney Love, Cara Delevingne, Miss Fame and more. In the video, directed by The Blaze, (cousins Guillaume Alric and Jonathan Alric) the actor has a solo dance session in front of 200 people.
Dior Master Perfumer Francois Demachy, who was instrumental in making the eau de toilette, was also present for the unveiling of the commercial at dinner. "The Robert Pattinson video was finished and I used it quite a long time for inspiration before I finished the scent," Demachy said.
Beyond that, Pattinson is coming off of three films in 2019, including The Lighthouse—which just secured a Best Cinematography Oscar nomination. He's currently at work on two more for 2020, including Tenet and The Devil All the Time. He'll star in the hotly anticipated Batman alongside Zoë Kravitz and Colin Farrell this year.
Here, Pattinson shares some of his favorite scent memories, the podcasts that give nightmares and more.
Can you remember the first fragrance you ever wore?
I was thinking about this earlier. I think it was Joe Bloggs. I think my dad had it. Do you know the kind you get at a gas station and it just says "cologne"? I think it was that, or maybe Old Spice. I used to pretend to shave when I was a kid before I needed to shave and I put it on all the cream and everything and then did the whole process.
What is your earliest memory of fragrance beyond that?
I used to put it on when I'd be on holiday with my sisters. They'd be teenagers getting ready and I'd put on some kind of after shave and then grease my hair back with Vaseline and put it into a little rattail ponytail at the back and put on cycling shorts and everyone had to call me Johnny.
What was the best part of working on the Leonard Cohen tribute video for the new Dior Homme commercial?
I would never choose to play a part similar to the parts in these ads in a movie. Because I don't think I'd be able to pull it off in a feature-length amount of time. But knowing that you can be a cool guy for, like, 45 seconds, it's quite satisfying. I guess dancing in front of, like, 200 people by yourself too—that's definitely not in my comfort zone whatsoever.
Some of your upcoming projects such as Batman and Tenant have some really eclectic casts. What has that been like, working with them?
I love playing in an ensemble so much. It's kind of like, there's no pressure. It's great because someone else has to drive a block forward. I almost enjoy it more. Also, you spend so much time by yourself as an actor as well, it's kind of nice being forced into meeting new people for a few months at a time. Make some new friends like John David Washington, for example, in Tenet. Like I got really, really good friends in the club.
What's been the most surreal moment of your career so far?
I can't really remember. There's been low surreal stuff that I could tell you, but they all sound like humble brags.
You've been pretty vocal about your commitment to getting into character. What's the weirdest thing you've ever done to get into a character?
I always think getting into character is more about figuring out ways to show whatever you're interested in at that moment in time. And so, that part: I love doing stuff with dreams and trying to do dream interpretation and what that has meant in terms of what you're supposed to be shooting that day. It's more just thinking that your subconscious is telling you how to do something. I don't know if it's weird or not. I mean, once you start doing it, it's actually really fun and you feel more connected to the world in a stranger way.
What is the first thing you read in the morning?
Google myself. Just kidding. I really like Twitter. My Twitter feed is really good now because I've kind of got the most eclectic sort of sources of anything you could really possibly imagine. I have no idea what's happening in the normal news whatsoever, but I know really random stuff all the time.
How do you get your news?
Most of my understanding of the world comes from hip-hop news websites.
What books are on your bedside table?
There's a lot of Batman comics at the moment, a lot. And The Last Night of Earth Poems, the [Charles] Bukowski book, which is great. I read it last night.
What's the last movie you saw in theaters?
That's Little Women. It was great.
What podcasts have you been into lately?
I really do like the true crime ones—I think I play those most. You know what else I really love, which I think is so funny, Dear Joan and Jericha. And there's this thing called Man In the Window, which was absolutely terrifying, which I fell asleep on a plane listening to and had the most awful nightmare. Absolutely awful story.
What's the last song you've had on repeat?
I was listening to Shai Maestro.
What is the last concert you went to?
My friend Sam Bradley. That's the first concert in a while.
What is the last thing you do before you go to bed?
I'm really obsessive about really nice eye masks, like blackout ones. I put that on because I just absolutely love them.
Related: Maggie Gyllenhaal on Becoming a Director, The Deuce and Collecting Louise Bourgeois