How a Buttoned-up Englishman Reinvented Roberto Cavalli For the Modern Woman
Paul Surridge, an understated modernist designer, has taken the reins at the Italian label known for animal prints and glamazons.
---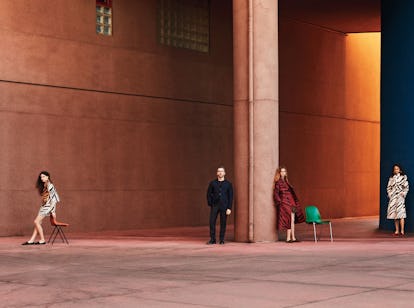 Photographs by Paul Wetherell; Styled by Silvia Gabrielli
Seeing Paul Surridge, the new creative director for Roberto Cavalli, at the helm of what is arguably the most lavishly provocative label in fashion, is akin to encountering a Zen Buddhist monk on a rococo papal throne. Surridge, 43, is a soft-spoken Englishman whose minimalist aesthetic was honed in the men's wear design studios at Jil Sander and Calvin Klein; Cavalli has long been the go-to label for, say, a champagne-fueled bacchanalia at an oligarch's mansion. Madonna, Beyoncé, and plenty of other über divas have rocked the red carpet wearing Cavalli's signature plunging goddess gowns—a riot of animal prints, titillating cutouts, and cascades of crystals, sequins, and ostrich feathers. This opulent seduction fantasy sometimes verged on kitsch, but always captured the male gaze.
The defining gaze, of course, was that of Roberto Cavalli, the Florentine designer who liked to refer to himself an "artist of fashion." An adventurer and bon vivant, Cavalli, 77, was in many ways fashion's answer to Hugh Hefner. His Latin lover image—permatanned, sunglassed, shirt open to the waist, cavorting on yachts with a succession of international beauties—was central to the brand he built in his name. The anecdotes about his antics are legion. In 1977, he was asked to judge a Miss Universe competition and ended up marrying the first runner-up, Eva Duringer. Then there was his tiff with Michael Jackson over a certain sequined jacket. After the performer tossed the jacket into the crowd during a concert, proclaiming it was "too hot," Cavalli made a public vow never to design for Jackson again.
Cavalli's namesake label grew from artisanal beginnings in 1970s Florence to a $2 billion business 30 years later. But like many independent fashion labels with a global reach, it faltered in the new millennium as the digital and luxury-goods revolutions changed the fashion landscape. Although he maintained the brand's celebrity stronghold, Cavalli struggled to connect with street fashion and the coveted millennial market. As competitors updated their images with touches of irony and whimsy, and nods to female empowerment, Cavalli's fidelity to the haute sex goddess of his heyday seemed increasingly out of touch. In 2015, he stepped down from his role as designer, having sold a 90 percent stake in his company to an Italian investment group. Peter Dundas, who had worked alongside Cavalli before decamping to Emilio Pucci, was brought back as creative director, but his '70s-bohemian and '80s-influenced rock-chic experiments fell flat, and after just three seasons he was out.
Enter Surridge. His name is associated with technical fabrics, sharp tailoring, and edgy urban uniforms. When he's not working, he leads the antithesis of an outsize life, preferring to take in a quiet dinner and a movie with his partner, a Spanish interior design director, and their circle of friends in Milan. He loves animals. Growing up in semirural Hertfordshire, about an hour from London, he discovered fashion on the television. A program called The Clothes Show offered an escapist fantasy from small-town life. Surridge was always artistic, liked to draw and paint, and was obsessed with architecture. Crucially, he had the unwavering support of his family. "My parents are extremely simple, humble people—my father was a machine operator—but they worked very hard to give me what I needed," he says. As a student at Central Saint Martins, in London, he was so inspired by a seminar with Vivienne Westwood that he promptly decided to pursue a career in fashion. Following graduation, he interned in the newly launched men's wear division at Prada and at the Tuscan leather-goods manufacturer Ruffo, eventually signing on with Calvin Klein in the late 1990s. After a stint with Christopher Bailey at Burberry, he became design director at Jil Sander men's wear under Raf Simons, then moved on to Z Zegna, the sportier secondary line of the high-end Italian men's wear brand Ermenegildo Zegna.
So how does Surridge, the understated, unpretentious, and rational Englishman—and the polar opposite of Roberto Cavalli, the maximalist Italian—plan to bring the label into the 21st century? The answers arrive one September morning during Milan Fashion Week, when the designer sits down to chat over coffee in the company's showroom near the Centrale station. There is a noticeable atmosphere of serenity in the vast, white space, which is teeming with clothing and accessories, and alive with activity as hairdressers, makeup artists, seamstresses, and models prep for the next day's runway show. "Hysteria never helps anything," Surridge tells me with a smile. Wiry and handsome, in Acne Studios jeans and a plain Jil Sander sweater, he looks remarkably relaxed for a man who has spent the past eight weeks shuttling back and forth between Milan and the Cavalli headquarters in Florence in order to assemble a debut collection in record time. Although he seems quintessentially English, Surridge has lived in Italy for the past decade and communicates with his staff in fluent Italian. And despite his regular-guy affability, his gaze and manner have a subtle intensity that commands order around him. "I would never raise my voice to get my message across," he says. "My mom instilled in me that if you raise your voice to be heard, it means you've lost control."
When interviewing for the position, Surridge knew that there was a key element lacking at Cavalli: daywear. "A brand at this level needs a varied, more inclusive wardrobe," he explains. "Yes, we can have evening, but we need to create new building blocks for a contemporary lifestyle and a global community of women." He never once considered his lack of experience designing for women as a disadvantage. "For women's wear, you have to bring something personal and unique," he says. "That was the hard part: How to create something new from something that's already set? Cavalli's definitely set. If I reference the past too much, I will not be seen as innovative. If I stray too far from what's currently there, I will be seen as disrespectful. The expectations today are very difficult, and fashion isn't patient."
Surridge went through the Cavalli archive in Florence, a stadium-size space affectionately known as "the museum," where he had access to almost every look from the label's history. And he met the maestro himself, whom he refers to, with respectful formality, as Mr. Cavalli. But most significantly, he looked beyond the glitz that had come to represent the DNA of the brand, to rediscover its roots. "Most people forget that at the beginning, the company was extremely simplistic and all about materials. Mr. Cavalli was the first to do printed knitwear. He was the first to paint and embroider jeans. He was the first to bring print onto leather. There were many things Mr. Cavalli brought to the fashion industry, and I wanted to celebrate that side of it, not just the high-octane glamour."
Surridge's debut collection offers fresh interpretations of core Cavalli themes. Leather and exotic skins evoke the company's Florentine heritage in shades of burnt umber and sienna; animal prints and body-conscious silhouettes sidestep any whiff of vulgarity in favor of beauty and strength. "I started by looking at Herb Ritts's photos of supermodels in the desert: powerful women who, to me, represent a modern attitude. There was the idea of the body being athletic, a healthy image to portray a new generation. The sensuality came through the power of the body."
The following day, the change of regime is palpable. The runway show, staged in a pavilion raised on the green lawns of Parco Sempione and set to an electronic krautrock soundtrack, has a pared-down allure that approaches practicality—a word likely never before associated with Cavalli. A generous selection of dresses, trousers, and trenches in neutrals, rich earth tones, or muted zebra prints have python or crocodile details, suggesting a travel wardrobe for a woman more inclined to pilot her own jet than catch a lift on her lover's. Sleek racer-back evening gowns—one outlined in white crocodile and sprinkled with shimmering bone beading—offer a new take on Cavalli's exotic sensuality. Accessories like flat slippers and massive leather cuffs add a utilitarian edge. And the cast of athletic, fresh-faced models points to an inclusive, global community. From beginning to end, the collection radiates youth and empowerment.
Present that day are some loyal Cavalli clients, who look as if they've dressed for an awards-ceremony afterparty—yet the audience shows lots of love for the collection. As Surridge takes his bow, Roberto Cavalli himself, suddenly and unexpectedly, emerges to embrace him. Through the applause, Surridge smiles in the direction of two other VIP guests: his parents. It occurs to me that if anything defines the new direction at Cavalli, it is this sense of groundedness that Surridge cannot help but bring to Cavalli's unbridled dream world. I'm reminded of something he had told me the day before, which sounded almost like a confession: "It may be a cliché, but I really want to serve the customer. Every designer has an ego, and mine is there like every other one. But I'm not here to go down in history. I'm just trying to make this company work. If I'm the one who makes Cavalli relevant, then that's the biggest reward I can give myself."