Just Cavalli
The designer talks age, women, and the opening of his New York flagship store.
---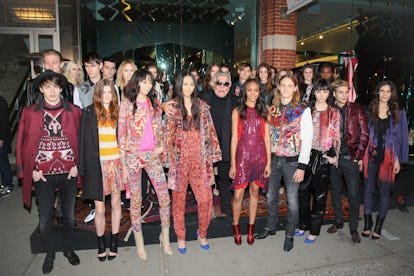 Thursday night, Roberto Cavalli flew into town for the opening of his new Just Cavalli flagship store on West Broadway. Looking like a vision of warmer climes, the perma-tan designer was greeted by everyone from Miranda Kerr to Carol Alt before he settled in for a fashion show of his pre-fall collection, runway for which ended outside the store in 27-degree weather.
Before Cavalli took his final bow, we caught up with him to discuss his younger line, the state of American girls and his omnipresent shades.
Congratulations. Thank you. You like the store? I have to tell you Just Cavalli, between us, is my favorite line. Because it's my creation for very young people and in Milano now it's very in and very successful. I just arrived in New York, I hope to be successful here. But in Milano it's unbelievable. It's unbelievable.
What's the difference between Milan girls and New York girls? I tell you. It's the same because the lady is international. My customers are all over the world. But for the young generation, I'm talking 18-25, very different. In Italy, we are more free. We are more free to choose, more free to say we like it, we don't like it. In America, I'm sorry, but the Americans they follow too much the label. They follow too much the publicity. No, I don't like it.
Are you trying to liberate American young women with Just Cavalli? Yah, yah, I would like very much. Tonight there are very many beautiful young girls. Tomorrow I hope they speak to their friends. Or maybe I have to do what I did twelve years ago, in the beginning, I make 1,000 or more jeans and I start to give free to the beautiful girls… or maybe not, to the PR of the discotheques who gave them as presents to the beautiful girls. That is the most important thing. It's not the page in Vogue. It's not the page in Vanity Fair. It's to see my things on the beautiful girls. That is the most important.
I have to ask you always wear sunglasses. Why? They are normal not prescription. It's because I'm shy. I'm very, very old. I'm 1,000 years old.
Are you really? 1,002 years old. I feel like the women don't see my age. Thank you, you are beautiful.
Thank you. Do I get free jeans? I will arrange it.
Roberto Cavalli with models. Photo by BFAnyc.com.
Heather Graham in Just Cavalli. Photo by BFAnyc.com.
Caitlin Fitzgerald in Just Cavalli. Photo by BFAnyc.com.
Miranda Kerr in Just Cavalli with Roberto Cavalli and Carol Alt. Photo by BFAnyc.com.