Robyn Released Elusive Single 'Honey' and the Internet Went Wild
It's going to be a competition between "Honey" Twitter and "A Star Is Born" Twitter.
---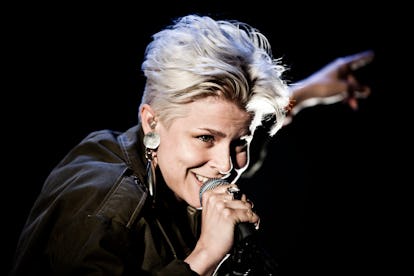 PYMCA
After two years of anticipation and fan thirst, Robyn, Sweden's high-pop shaman, finally decided to unleash her highly coveted new track "Honey" to the masses about a year and half after it was first teased with Lena Dunham's assistance.
It's been a long time coming for the pop icon who hadn't released new solo music in eight years until she dropped "Missing U" in early August—a disco-infused sad song that ruminated on loss. Robyn premiered the second single from her forthcoming album on Wednesday on Annie Mac's BBC 1 radio show.
Fans were obviously thrilled about the fact that the song was seeing the light of day—so much so that its release was met with crying, meme making, and anticipation for the next time they could dance to it at a club.
"Honey" debuted for the first time in late 2016 during the final season of Girls. Lena Dunham had reached out to Robyn, asking if she might make a song specifically for the final season of the series. Because she was already working on new music, she decided to take on the project. Robyn sent some ideas to Dunham, who picked out what would be the first iteration of "Honey." After the episode aired, fans wanted to know when and where they could hear the full version of the track. But Robyn decided to keep it close to her for a while. Fans became antsy for the final cut of "Honey" and more music, beginning to question her regularly about what happened to the song. At one point there was even the hashtag for it: #RELEASEHONEYDAMNIT.
The final version of "Honey" is a sultry combination of classic house and melancholic pop, but it's not the same track heard on Girls in 2016. Some fans were displeased by that.
Fans won't have much time to be upset, because Robyn's album is coming Oct. 26, and there are nine hot dance-pop tracks to enjoy.