Rose Byrne, Longtime Brunette, Is Officially a Blonde
But is she having more fun?
---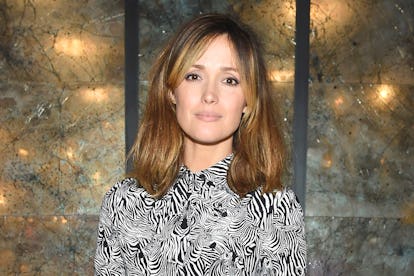 Larry Busacca/Getty Images
Rose Byrne debuted a stunning new hair color on Thursday, when she attended the opening night of the Broadway play The Lifespan of a Fact in support of her longtime partner Bobby Cannavale. And while we're sure the play, which also stars Daniel Radcliffe, is a revelation, it's hard not to focus instead on Byrne's bold new platinum blonde hairdo.
The Bridesmaids star has rarely, if ever, been seen with hair not some shade of chestnut, making this week's much lighter 'do all the more dazzling. Byrne's new look is a sleek, medium-length chop that reaches just past her collarbone and features a few longer layers in front. Her multidimensional platinum shade was complemented by almost a full inch of strikingly dark roots, and what seem to be slightly more golden shades at her ends and surrounding those chocolate-y roots. To maximize the impact of her bold new look, Byrne wore a shimmering metallic dress from Les Coyotes de Paris, according to Entertainment Tonight.
ET also speculated about whether Byrne's new style was, perhaps, preparation for an upcoming role, to which we respond: Maybe! Actors have indeed been known to transform themselves physically for roles, and while dyeing one's hair is admittedly not as extreme as, say, gaining a whole bunch of weight and fully taking on the persona of a certain former vice president, it does look like way more fun.
In fact, maybe that's why Rose Byrne decided to go blonde — isn't there some old saying that suggests that blondes somehow get more enjoyment out of life than the rest of us? Hopefully, the actor will be able to report back on that hypothesis in the coming weeks.
Related: Hair Transformations: See 9 Models Who Got Dramatic New Hairstyles This Fashion Week
Hair Transformations: See 9 Models Who Got Dramatic New Hairstyles This Fashion Week
Huan Zhou (Elite Model Management), the Chinese model known for her eye-skimming bangs, conceded to give a rare glimpse of her brows in the name of Miu Miu.

Sidney Gomes
Kate Kina (Silent Models) gave supermodel Anja Rubik, who dyed her bob orange ahead of walking on water for Saint Laurent, a run for her money by bleaching her brown locks platinum.
Ariela Soares (New York Model Management), who closed Marc Jacobs, not only straightened her hair for the show, but transformed it into an icy blue.
Unlike her shoulder-length hair, Sofia Tesmenitskaya (Wilhelmina Models)'s eyebrows didn't come into contact with the bleach backstage at Marc Jacobs, giving her a Daenerys-esque look.
Belgian newcomer Ilona Desmet (Girl Management) fully embraced her title as a Prada exclusive by chopping her dark brown bob even shorter, into a pixie.
Having left behind New York, where she went gray for Marc Jacobs, Rori Grenert (Red Models) made her way to Milan to walk for Iceberg—and color her curls a shade of pastel pink.
Last September, Jiji (Heroes Model Management) stepped out on the runway with a deep blue buzzcut for the buzzy London designer Matty Bovan, so it's no surprise that this season, she underwent another transformation, going gray for Bovan's former mentor, Marc Jacobs.
Anita Terenteva (Wilhelmina Models) changed her hair for Marc Jacobs, but took things a step further in Paris for Junya Watanabe, abandoning her newfound blonde for bright green.
Fellow Prada exclusive Emma Boyd (Elite Model Management) also bid her bangs goodbye for a pixie before moving on to the shows in Paris.

Sidney Gomes