Rose Gilroy, Rene Russo's Daughter, Is Giving Modeling a Go (Just Like Mom)
The 22-year-old was signed by Elite Model Management fresh out of college.
---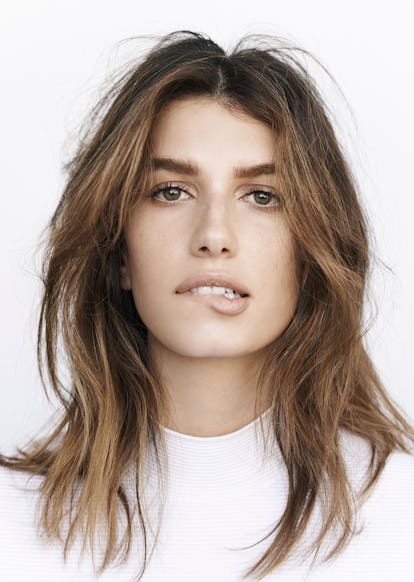 Joseph Paradiso
Rose Gilroy, daughter of Academy Award-nominated screenwriter Dan Gilroy and actress Rene Russo, graduated with a diploma from Colgate cCollege this spring and almost immediately signed a contract with Elite Model Management. Her mother being a former model as well, it was her agent who encouraged Gilroy to give it a go.
"I spent the last four years in college studying, so it's definitely a different experience," the 22-year-old said with a laugh. "But I wanted to take time to do something creative. I come from a creative family and it wasn't something I had the chance to do in college. I've just been doing traditionally academic things. I love the creative aspect of modeling though and being around that creative energy."
Gilroy has spent the summer working on her modeling portfolio, but this latest scion is likely to first make her mark on the scene this coming New York Fashion Week in September.
What did you study in college? I was a double major in political science and psychology. My senior year I took a class on social policy and foreign aid.It was so timely with the refugee crisis happening. I learned about what it means to care for people and how you integrate that into a welfare state. I miss learning in an academic setting, but I'm learning from the artists I'm working with every day. Being on set is like a classroom, in a way.
Have your parents given you an advice about being in the spotlight? Just that it takes a lot of work. You have to work hard at everything, whether it's school or modeling. Nothing is given to you. I'm lucky that I grew up with a mother who thought fashion was a really important industry.
How would you describe your style? I like to dress really simply, but I also have staple pieces that have been passed down from my mom or statement bags that I saved up for. I like to mix those pieces with really casual basics.
What are some of the pieces that your mom has handed down to you? Really great Gucci jackets. One is a jean jacket and one is olive green. Those are my two favorites. She has some great dresses, too, like this one J. Mendel dress, but I haven't had a chance to wear it yet.
I noticed that you don't have a lot of posts on Instagram. Did you have to go through and delete a bunch when you were signed as a model? No, I was never really that into Instagram. I had a private account before. It's not like I went through and deleted party photos because I didn't have any. I maybe deleted some stupid food photos, but that's it. It's important now though to have your work on Instagram and be seen; it's part of the industry today.
Are you watching anything good on television right now? The Night Of. It's so good but also so anxiety-inducing. It's also a really interesting look at the prison system.
Hidden talent: I can do a Rubik's cube!
What would you be doing if you weren't modeling? I thought about law school, but it's hard to say. I'm just focused on what I'm doing now.
Any summer plans? My mom is working in Santa Fe, so I'm going to visit her there. I miss her! I haven't seen her in a while.