Rose McGowan Will Star in a Five-Part Documentary Series on E!
CITIZEN ROSE will air later this month.
---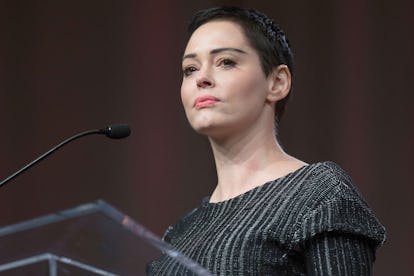 Rena Laverty/AFP/Getty Images
Rose McGowan won't be leaving her activism behind in 2017. In fact, this year, she's looking to be even more outspoken and visible in her mission to stand up to injustice. Not only will she be publishing a memoir-slash-manifesto, BRAVE, in the coming months, but she'll also document the process of releasing the book and her activist efforts in a documentary series on E!
The network announced on Tuesday that CITIZEN ROSE will air in five parts beginning later this month. "You are formally invited into my mind and world. I am thrilled to partner with E! to amplify my message of bravery, art, joy, and survival," McGowan said in a statement released by E! "As I ready my book, BRAVE, I realized I wanted to show how we can heal through art even when being hounded by evil. I want to have a conversation with everyone, and most especially, you, about looking at things differently and seeing beauty everywhere. E!'s tremendous reach and impressive platform allow me to globally communicate the importance of living a BRAVE life."
"Rose McGowan's courage in addressing sexual abuse and harassment in Hollywood ignited a conversation and inspired other women to speak out against their abusers," Amy Introcaso-Davis, E!'s executive VP of development and production, said in a statement. "We look forward to taking viewers inside this talented, dynamic woman's world as the first allegations unfold and she becomes a leading voice in a critical cultural change."
McGowan was among the group of women who first publicly accused Harvey Weinstein of sexual misconduct in The New York Times's early October bombshell report. After the story broke, she continued to tweet about the abuse and misconduct of powerful men in Hollywood. When her Twitter account was suspended after she criticized Ben Affleck's response to the Weinstein allegations, millions of women stood alongside her by boycotting Twitter for a day. McGowan also had the honor of speaking at the Women's Convention in late October in Detroit, during which she called women to action. "For all of us who have been grabbed by the motherf*cking pussy, no more. Name it. Shame it. Call it out. Join me. Join all of us as we amplify each other's voices," she said.
CITIZEN ROSE will start with a two-hour premiere on January 30 at 8 p.m. ET. The following four episodes will air throughout spring 2018.
Related: Rose McGowan Speaks Out at the Women's Convention: "Name It, Shame It, Call It Out"