Rose McGowan Speaks Out at the Women's Convention: "Name It, Shame It, Call It Out"
In her first public appearance since the Harvey Weinstein sexual abuse allegations surfaced earlier this month, McGowan presents an unfiltered indictment of the treatment of women in Hollywood and beyond.
---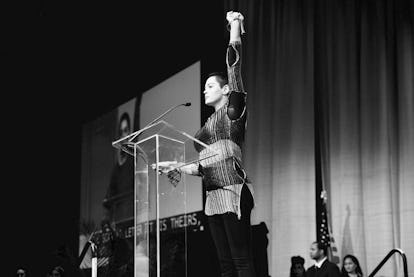 Megan McIsaac
In the wake of the tidal wave of accusations against Hollywood producer Harvey Weinstein, alleging gross sexual misconduct including harassment and assault, actor Rose McGowan—along with actresses like Asia Argento and Ashley Judd—has become something of a figurehead for women speaking out against sexual abuse in Hollywood and beyond. Under the banner of the #RoseArmy hashtag on Twitter, she conjured a legion of followers and made her feed into one of the most effective newswires short of the Associated Press for keeping up on the Weinstein scandal. On Friday, McGowan made her first public appearance since the news broke with her opening remarks at the Women's Convention in Detroit.
McGowan stepped onto the stage with a single fist held high, pausing for a moment before launching into her speech. "I have been silenced for 20 years. I have been slut-shamed. I have been harassed. I have been maligned and you know what? I'm just like you," she said. McGowan signed a nondisclosure agreement when she settled with Weinstein in 1997 for $100,000 after he allegedly raped her in a hotel in Sundance, Colorado, but the silencing has not ended: For example, she was blocked from Twitter for 12 hours apparently for releasing a private phone number, though the service had until then provided her a platform from which to speak out. She also acknowledged that her story was not a unique incident, nor is Weinstein the only predator: "What happened to me behind the scenes happens to all of us in this society and it cannot stand and it will not stand," she continued.
"Hollywood may seem like it's an isolated thing, but it is not," she said. "It is the messaging system for your mind. It is the mirror that you're given to look into. This is what you are as a woman. This is what you are as a man. This is what you are as a boy. Girl. Gay. Straight. Transgender. But it's all told through 96 percent males in the Directors Guild of America. That statistic has not changed since 1946, so we are given one view, and I know the men behind that view. And they should not be in your mind and they should not be in mine. It's time to clean house." (The source for that statistic is unclear, but it is true that a DGA study released in 2015 found that just 6.4 percent of movies released from 2013 to 2014 were directed by women, and just 1.3 percent of them by women of color.)
She also drew a connection between Weinstein, who has continued to deny "any allegations of nonconsensual sex," as he said via a statement, and what she referred to as "the head monster"—presumably the president, Donald Trump, though she didn't mention him by name. "They are the same, and they must die," she said. "The scarlet letter is theirs, not ours."
"I came to be a voice for all of us who've been told we are nothing. For all of us who have been looked down on. For all of us who have been grabbed by the motherf—ing p—y," she said, again referencing the president and last year's Access Hollywood tape during which he openly admits to sexual assault. "No more. Name it, shame it, call it out. Join me, join all of us as we amplify each other's voices and we do what is right for us and our sisters and this planet, Mother Earth."
"My name is Rose McGowan," she concluded, "and I am brave, and I am you."
Watch: "Women's Rights Are Human Rights": 62 Fashion Insiders Speak Out in a Powerful Video for International Women's Day
"Women's Rights Are Human Rights": 62 Fashion Insiders Speak Out in a Powerful Video for International Women's Day