Rosie Huntington-Whiteley, Who Has Been Engaged for Two Years, Explains Why She's Still Waiting to Get Married
It involves her son, Jack.
---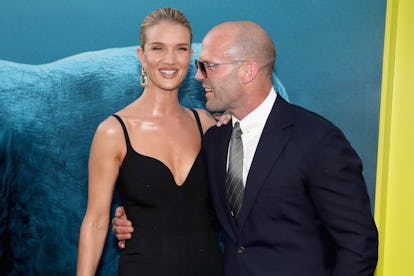 Christopher Polk/Getty Images
Rosie Huntington-Whiteley has been engaged to Jason Statham for the past two years, but don't expect the pair to tie the knot anytime soon. The couple, who share a 1 1/2-year-old son, Jack Oscar Statham, are in no rush to make their relationship legally binding. In part, that's because the couple thinks it would be fun to wait until their son is old enough to play a role in their wedding.
"I think the time will come," the model told Extra Tonight. "We've been so focused on our work for so long, and Jack came along. We definitely talk about it. We're looking forward to that time. It's also not a huge priority for us; we're so happy. I think it will be fun to do it when the baby's grown up a bit and he can be involved in the wedding."
In the meantime, Huntington-Whiteley has been soaking in the lifestyle shift of becoming a mother. "It sounds so clichéd, but it's just been the most magical experience," she told Harper's Bazaar U.K. earlier this year. "Everything feels so special and sweet and wholesome and loving, and then at the same time it's been…life-changing, and my focus is now this person; this is what I want to do. This is what I want to pour my heart into now…I feel different. Everything changes; it really does."
She also said of Statham that he's "the best dad." "I can't even put it into words," she added. "It's really a beautiful thing to watch." She echoed those thoughts with Extra Tonight, saying, "He is very happy to get up at five in the morning and do daddy duty and let me sleep an extra hour. He's very hands-on; he's a brilliant dad. I am very lucky. He's a great partner."
Huntington-Whiteley gave Statham a shout-out in August when she posted a rare family photo on Instagram. With her baby, Jack, in the foreground, she and Statham posed in their red-carpet attire. "Dads movie premiere. So proud of you j. ❤️," she wrote in the caption.
Their family may grow again before they finally get married, though, as Huntington-Whiteley revealed that she's ready to give Jack at least one sibling. "I do want more kids," she said. The prospect of more flower girls and page boys is one more reason to wait on getting married.